• Saturday, June 27th, 2020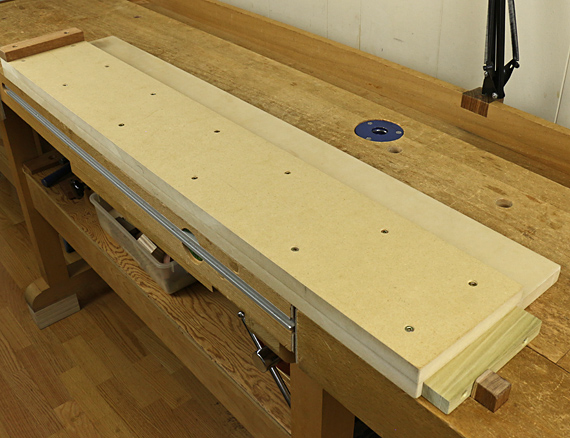 My new jig for long-grain shooting accommodates workpieces up to 36″, a big increase from the old jig's capacity of 24″. I was motivated by a few occasions when I had to use the somewhat awkward setup of clamping a long workpiece to a support board and running the plane on the benchtop. 
I have found that shooting a three-foot long piece is really not a problem with a good setup. And the big jig imposes no disadvantages for shooting much shorter pieces. 
My 10/31/19 post is a discussion of long-grain shooting. 
Construction is simple from 3/4″ MDF: The workpiece platform is 6″ wide on top of the base, which is 9″ wide, to make a 3″-wide plane runway that is covered with thick PSA UHMW plastic. I like the Lie-Nielsen #9 but any bench plane would work.
The workpiece is controlled from the front by the end stop, and from the side with clamped scraps. I find no need for an elaborate, screw-mounted permanent lateral clamp board because while it would offer some convenience, it would also limit the functional range of the jig. Top (downward) control is supplied by your hand.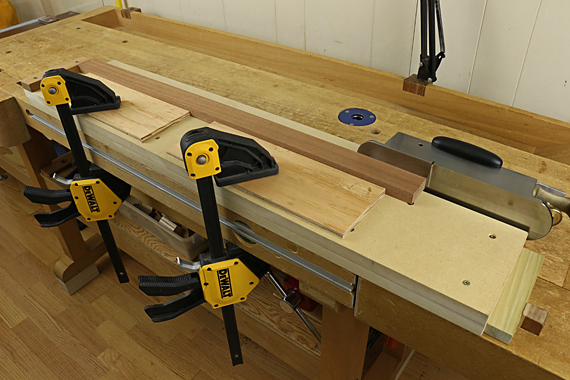 When shooting a narrow workpiece, such as a door stile, which might temporarily have a convex or concave non-working edge, there is the danger of the workpiece flexing against the straight edge of the lateral control board. The solution, shown above, is to use two separate lateral control boards, each butted against a section of the (non-straight or suspect) non-working edge of the workpiece. 
The cleat at the right end of the jig is an afterthought (you know what I mean: "Doh!") that allows the jig to be clamped with dogs with a conveniently minimal opening of the tail vise, which is then tightened. 
It works beautifully.