• Tuesday, December 27th, 2022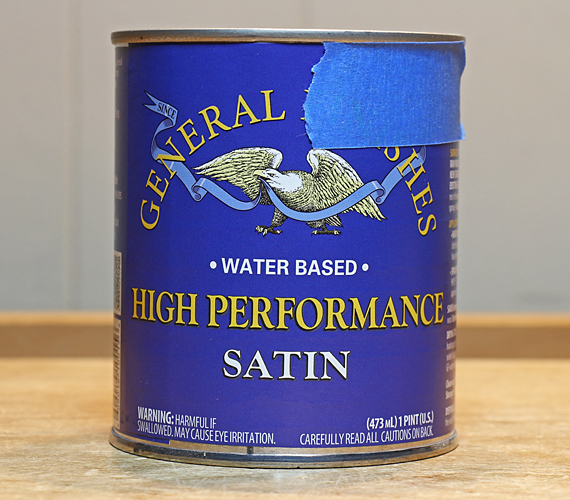 When I am considering no finish at all but just want to add some sheen, silkiness, and decent protection, I use a clear water based finish that produces no (or trace) color change and stays that way. The best example is pearwood to preserve its delicate beauty. Oiling pearwood should be considered a felony crime. Port Orford cedar, with its Zen-like beauty, is another example, though I usually use another finish for it, which I will discuss later in this series. 
General Finishes Water Based High Performance – Satin, a water based polyurethane-acrylic blend, is my go-to player for this. It is very transparent with only a trace of yellow color. It flows out and levels exceptionally well.
The method: I sand a tight diffuse porous wood like pear to 400 grit, which, when practical, may be nothing more than a light pass over a finish hand planed surface. I apply the finish with my Gramercy Tools Waterborne Finishes Brush. A Taklon brush is another good option but the GF flows out so well that even a foam brush works well enough. 
I lightly very fine sand when the first coat is dry enough to produce dry powder – about two hours if humidity is medium/low. Two fairly light coats are enough for the look I want. If I lay down the second coat carefully, it will need little rubbing out with a 2500 Mirlon pad and/or brown paper to end up with a silky surface. 
Other brand options that I have tried include: Hydrocote Resisthane Plus Pre-Catalyzed Lacquer, Clear Satin. This is an excellent product, nice and clear. It seems to brush close to as well as the GF, and is less expensive but not available local to me. I can pick up GF at my local Woodcraft but it is rather expensive. Minwax Polycrylic, also available locally, is also very clear but did not brush out as well for me. [Caution: I do not know if manufacturers' formulations have changed since I last tried them.]
In summary, this is the finish I use when I want hardly any finish.
Next: a finish to consider that is hardly ever discussed in finishing books and articles