• Monday, January 23rd, 2023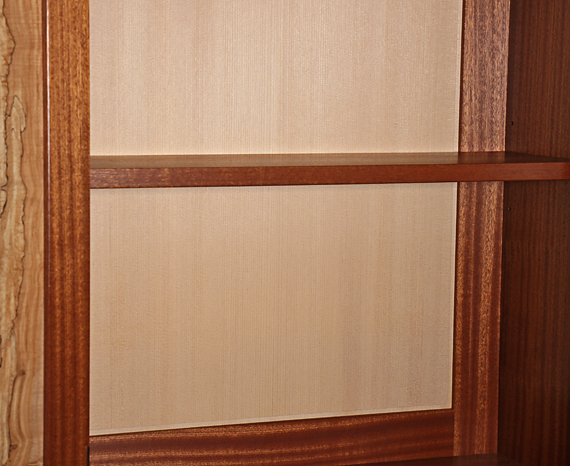 A finish that gets little attention in books and articles about finishing is no finish. Consider it.
Here are two examples. The panel in the frame-and-panel back of the cabinet shown above is quartersawn Port Orford cedar. The surface is exquisitely smooth direct from the hand plane with barely a touch of superfine sanding. I think it is a terrific look but just as nice is the spicy fragrance that greets you when the cabinet is opened. Any finish would spoil the fine appearance and would block the fragrance. The rest of the piece is finished.
Two Japanese-style toolboxes that I made about ten years ago primarily from quartersawn Douglas fir are doing just fine without any finish. Of course they get dinged from equipment and tools but I think they wear the wounds better without finish. I do not think any finish would enhance their appearance, which is meant to be tough but peaceful, or their function, which meets the same criteria.
I also have a few items in poplar around the house that are not refined work so I simply did not bother to finish them. Yet they maintain a surprisingly nice appearance as the poplar has turned a soft tan, and they have held up well.
We finish wood to enhance its appearance and protect it. I certainly would not want to leave curly maple unfinished and miss out on popping the curly figure, nor would I leave a table top vulnerable to taking up spilled drinks or sauces.
So, for the great majority of woodwork, yes, we want to apply a nice finish. But not always. The point is to consider why you are finishing the object. Are you actually enhancing its appearance? Does it actually need protection? Is there some aspect of the wood from which a finish will detract? How can you best surface the wood if it is to have no finish?
You may decide in a few cases that no finish is the best option for all or part of the piece.
Next and last in this series: a few finishes I use only occasionally and some things I just do not like.