• Sunday, December 25th, 2022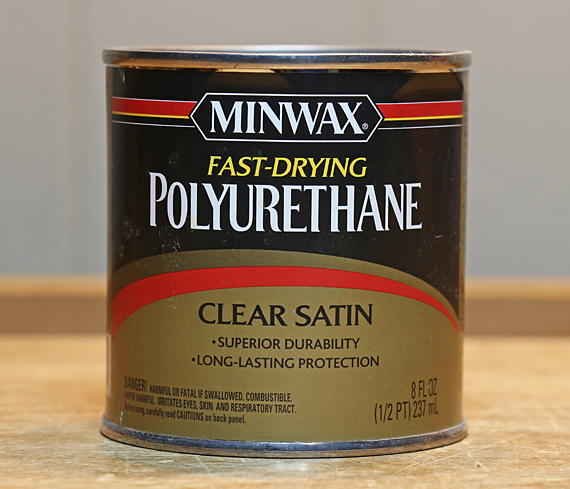 For tabletops that are expected to receive more punishment, there are two options that I employ as I briefly mentioned in the previous post. When I want the look of a non-film, "close to the wood" finish, I go with several coats of oil-varnish mix. This strategy sacrifices protection for easy reparability. Sometimes though, I want a more protective film finish, yet I still want to avoid an overbuilt, "plastic" look.
For this latter option I use a strategy that I first learned from an article in Fine Woodworking magazine #81 (March/April 1990), page 75, by Greg Johnson. He used one or two coats of brush-on polyurethane followed by two coats of wipe-on gel varnish. The idea is to get the film volume of brush-on poly with the surface finishing ease of the gel.
Here is my approach, which is essentially the same as that in the article but with slight differences.   
I use two coats of brush-on Miniwax Fast Dry Polyurethane, Clear Satin. I use a decent bristle brush but not my thoroughbred ox-hair brush for this because it is unnecessary, and it is difficult if not impossible to fully purge the varnish from it. (See this excellent discourse on brush selection by Joel Moskowitz.)
The method: After finish planing/sanding, I raise the grain by wetting the wood with a damp cloth, let it dry, and then lightly sand with 320 or 400 grit. I usually apply the first coat of poly without thinning it, knowing full well that there inevitably will be some streaks, bubbles, and dust no matter how careful I am. In fact, I don't bother trying to be too careful. After it dries, I sand with 220 grit, cutting pretty aggressively to remove the defects. By the way, "dry" means that sanding produces a non-sticky dry powder. Then I apply a second coat of poly, trying to be more careful and nicely tipping off the finish. After the second coat dries, I sand to remove defects, this time less aggressively.
An alternative method is to apply the first coat thinned with mineral spirits in an attempt to minimize defects and thus minimize sanding. I have had less luck with this approach, so I use full-strength coats and concentrate mainly on getting a decent film on the wood.
Next, I apply two coats of General Finishes Oil Based Gel Topcoat – Satin. Between coats, I lightly sand as needed with 320 grit. After the second coat of gel, the defects have been scaled down enough to make the final surface smooth and with minimal or no defects. I complete the sequence with a rubdown with brown bag paper.
This strategy supplies good protection, a pleasant final film that does not look too thick, and circumvents most of the problems of using only brush-on polyurethane varnish. It will not protect as well as heavy duty two-part catalyzed finishes but is easier to deal with for small-scale woodworkers like me, easier to repair, and I think, looks better.
It is a nifty finishing strategy to have in your repertoire.
Next: oil-varnish mix