• Wednesday, December 21st, 2022
Wiping varnish, a term coined by the Moses of finishing knowledge, Bob Flexner, is simply varnish thinned with mineral spirits to make it easy to wipe, rather than brush, onto the wood. The coats are therefore necessarily thin compared to brush-on varnish. 
So, the great advantage of easily applying virtually problem-free coats carries the possible disadvantage that the coats are less protective. Most of my work, such as a wall cabinet or the lower part of an occasional table, does not need lots of protection. For those situations where more protection is needed, such as a tabletop, wiping varnish is still wonderfully useful in conjunction with brush-on varnish. I will explain that technique in a future post in this series.   
Here are my three favorite wiping varnishes in order of how often I use them:
1. General Finishes Oil Based Gel Topcoat – Satin. Gel varnish is simply wiping varnish with a chemical thickening agent added. This stuff is about as easy as a film finish application can get. 
I use lint-free rags and nitrile gloves. Wipe it on, spread it around, and very soon wipe off the excess along the grain. That's really about all there is to it. It imparts only a light amber tone.
Some planning is required to work on fairly small areas at a time because this dries quickly. I use a succession of rags, applying with a loaded rag and finishing off with a relatively clean rag. I do a bit of light fine sanding after the first coat and thereafter little to none. Three coats are usually enough, four at the most. I usually buff the final dried coat with brown bag paper.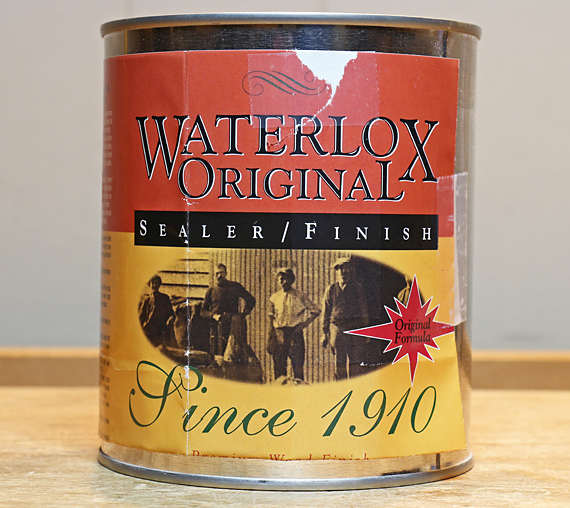 2. Waterlox Original Sealer/Finish – Medium Sheen. This is a high quality and reliable, though rather expensive, product. Depending on the contours of a piece, this liquid product can actually be easier to apply than the gel because its easier to wipe off the excess out of corners. 
Note that this is a dark amber varnish, almost like a light stain, so I use it with that in mind. I do not like the cans that it comes in, with the little opening at the top, so I transfer it to a clean regular finish can and tape on the orginal label.
3. Minwax Wipe-On Poly – Clear Satin or very occasionally, Clear Gloss. This is a quality product, inexpensive and widely available. I use it when I want a liquid but without the dark amber of the Waterlox. It is particularly handy when I do not want to mess with the gel on interior cabinet corners and I do not want the dark amber.
[Why no photo? Because I can find this stuff anywhere, anytime, so I don't usually stock it in the shop.]
I do not like thick film finishes. I also think that protection is an overrated concern with the possible exception of tabletops. I have built household furniture items finished with only gel varnish that have gracefully withstood 20-30 years of regular use. Even for some table tops such as an occasional table or coffee table, trying to "protect" it with a thick film finish can create more problems as the finish inevitably becomes more and more scratched and the great enemy, water, gets in and it all looks bad. Sometimes, a non-building finish, like oil-varnish ends up looking better and is much easier to repair. 
Next in this (not-necessarily-contiguous) series: Brush-on varnish plus wiping varnish when you feel the need to protect.