• Tuesday, March 31st, 2009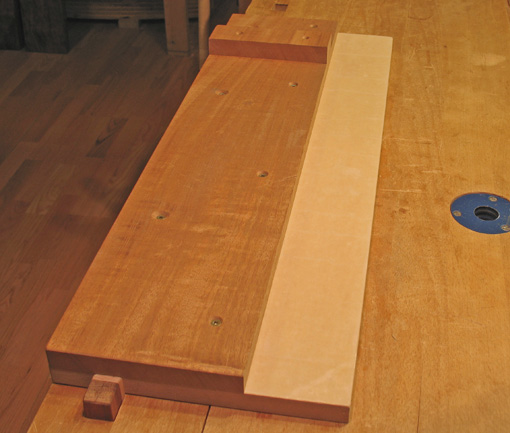 Shooting has no equal for producing an accurately square (or angled) end on a board while incrementally removing minute thicknesses of wood to make a component fit just right. This shooting board has seen many years of use because it meets my preference for jigs to be simple and adjustable for tolerance.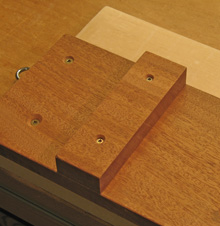 It is easily constructed using a 9″ x 26″ x 3/4″ piece of MDF for the base. Plane the working side of a dressed quartersawn mahogany board, 6″ x 3/4″, straight and square. Attach it to the MDF with screws, leaving a 3″ track on which the side of the plane will ride.
The track is covered with adhesive-backed 1/32″ thick UHMW slick plastic which makes the plane ride like a sled on ice. Screw a short grain fence, about 7/8″ thick, a few inches in from the end. To attach the fence, use oversize clearance holes and adjust the squareness until you're satisfied.
Break in the new jig by taking a few shavings off the side of the mahogany to create a miniscule rabbet. The outermost part of the plane's sole will ride on the uncut straight edge while the tiny blade projection will nest in the rabbet.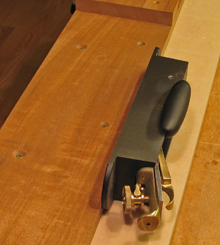 In use, don't worry if the woodworking gremlins confound your attempts to produce a square end on a board even though the fence is "perfectly" set. Just use a piece of tape or a shaving judiciously placed on the face of the fence to produce the squareness you seek. The same goes for squareness across the end of the board – use shims logically placed on the shooting board surface to get the desired result. This is microadjustability under your control!
A thicker fence can be attached for thicker workpieces or to stack workpieces to distribute blade wear. I seem never to use miters in my work but a fence could be attached at any angle. The scale of this shooting board is more for drawer making but I have used it to shoot carcase boards by using an adjustable support alongside the workbench. Remember, the shooting board also works great for long grain edges on small pieces.
A low angle, bevel up plane is ideal for shooting. I like the compact mass of the Lie-Nielsen "iron miter plane". Don't even think about shooting without a very sharp blade.