• Friday, March 20th, 2009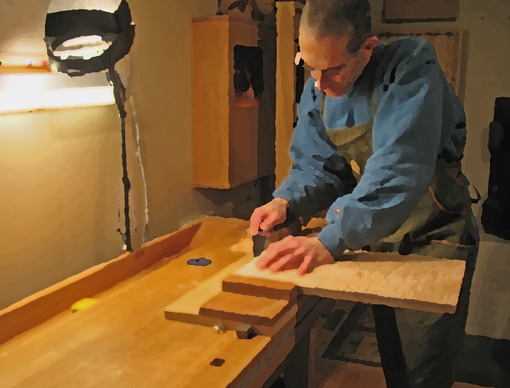 I enjoy watching the Science Channel television program "How It's Made". There is amazing ingenuity and capital investment involved in producing almost all of the human-made things around us. Most of the items the show demonstrates could not be produced at all without sophisticated machinery, and certainly not cheaply enough for practical mass consumption. This is the means by which we get our stuff in today's world and we can be grateful for what we have earned with technology.
As I sit watching robotic arms assembling a construction vehicle, I wonder where we small scale woodworkers and our products fit into this world. Is our work a quaintness for a few owners to appreciate only in passing, without the consequence of "necessities"? Do we use our method of production, a small shop using small machinery and hand tools, only because there is maybe so little demand for our products, or perhaps because we have not bothered to find a more efficient way to produce? In short, does our work matter, and why?
Yes it matters, because our work is personal, in vision and execution. Our small shop methods are vital because they allow personalization in design, workmanship, and detailing. A craftsman's work is his song, that he sings, and people appreciate and value it as that.
A modern person is likely to own only a few things of which he knows who is the designer-maker, the person, not just a label or a company. That personal identification and connection make these among the most cherished possessions. That chair, for example, is not any chair, however elegant, it's a Maloof chair. The table that you, my fellow woodworker, made for yourself or a client will forever be your table, linked to you, with your name on it. A client owner knows exactly from whence it came, perhaps even playing a role in its design, and values this distinction.
That is what we small shop craftsmen have to put forth and, I believe, will never become obsolete. On the contrary, this offering will be increasingly valued in a world filled with growing numbers of nameless technological wonders. Personal woodworking – it matters.