• Tuesday, October 14th, 2008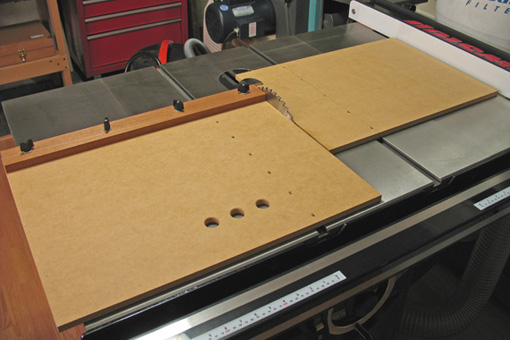 There are lots of ways to do this, written on seemingly everywhere. Here's mine.
The jig is constructed from ½" MDF slabs with UHMW plastic runners snugly fitted in the miter slots and screwed from the top face. The left side carries the workpiece while the stationary right side prevents the cutoff from dropping. The fence is made from stable quartersawn mahogany with a handplaned straight working edge. It is secured with four flathead bolts inserted from the bottom, hand tightened with knob nuts. This allows the fence to be squared leisurely, after the initial cut of the MDF on its right side. I can get it very precisely square because it allows for retesting and readjusting. The three finger holes assist in retracting and carrying the jig.
Simple, easy, and works beautifully. That's the way I like woodworking jigs to be.