• Saturday, October 30th, 2021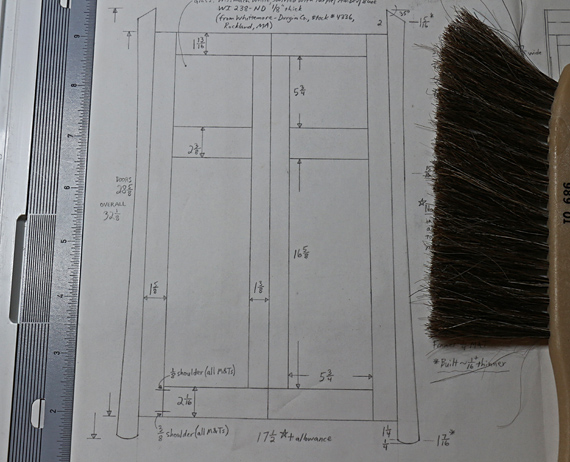 Something easy to draw on paper may not be so easy to execute in wood. Though we can and should try to stretch our technical limits to meet the demands of a compelling design, it may be impossible or at least unwise to attempt certain things in wood. Sometimes even an innocent curve on paper has the potential to foul up a construction.
Deviating from established construction methods is fine but there are reasons they are tried and true, so you better know what you are doing and have a sound plan if you diverge from tradition.
With those points in mind, the "hook" for this piece is the curved sides. I knew I was asking for trouble. Whenever there is a major asymmetry in wood removal on opposite sides of a board, the built-in stresses can manifest unpredictably. If the wood has been in storage through many seasons of changing humidity, the stresses seem to reduce themselves, but for recently harvested and kiln-dried wood, there are inevitably some case hardening stresses lurking. The thinnest points of the 8-inch-deep sides are about 1/2 inch less than the thickest points. The sides come out of 8/4 stock. 
But wait, I'm the wood guy, I know how to work around this! Well, dream on wood guy, the wood does not care that you're the supposed wood guy.
The wood had its own plans as I was to find out. 
The case construction is carcase dowelling, and the techniques I use have proven sound in projects going back more than 20 years. So I felt confident there and similarly for the frame-and-panel construction of the doors and back.
However, the other hook for this piece is the layout of the door stiles and rails. The center stiles do not reach to the top and bottom like the hinge stiles. They are also, along with the middle rails, slightly thinner than the other frame members to create small steps at the joints.
It would have been easier to take the usual approach where the center stiles go all the way to the top and bottom like the hinge stiles. That way, the doors would be easier to assemble and trim to a final fit. But that's not the way I wanted it. Still, my scheme here is not too unusual and quite doable. 
Other things that required careful thought are the doors overlapping the top and bottom of the carcase, which precludes using a nice Krenov-style door catch, and hanging with Z Clips, which are essentially thin metallic French cleats. 
So, in summary, I felt my design was exciting but brought about some challenges and doubts. Doubts for sure. But remembering the late Wendell Castle's advice, "If you're always hitting the target, it's too close," I was ready to go.
Now, about the wood . . .