• Thursday, September 30th, 2021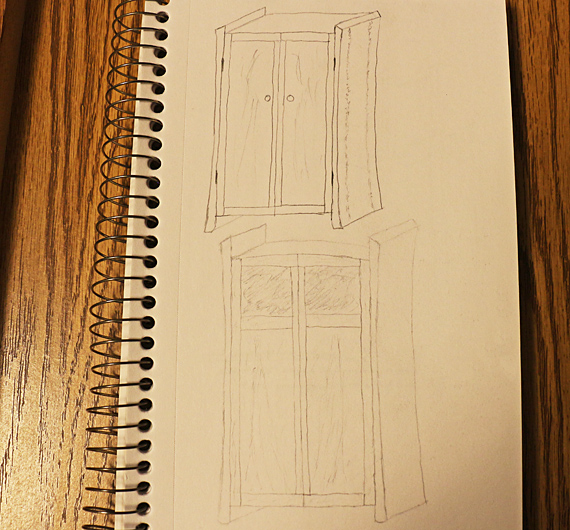 This will be a series of posts that I have wanted to write for a long time. It will be what is rarely written – a real accounting of a maker's thoughts from the first idea for a piece through its completion. I will relate my ambitions, joys, frustrations, doubts, successes, failures, and more – all unvarnished and "from the shavings and sawdust of my shop" – in building the piece that started with the sketch above.
Now, why would I want to do that and why might you care?
Magazine articles and books almost always present a sanitized version of the construction steps, and reasonably so. The reader needs a clear layout of the building process so it can be understood and employed, not a replay of a woodworking psychiatric session.
Moreover, when the finished piece is presented to viewers, interested and sensitive observers are generally best served when the piece is mostly left to speak for itself with little or no verbal accompaniment. Questions can come later. That the joints were hard to fit or the wood tore out on the thickness planer are my problems, not theirs, and I have to solve them so they can enjoy the piece.
Yet, Heartwood readers know that I have long emphasized that high-end woodworking is not fast or easy and pretensions to such fantasies by woodworking media are counterproductive. I also think that high quality woodworking, especially one-of-a-kind pieces, are largely underappreciated and not well understood. If that were so, they would probably be in greater demand and fetch higher prices.
So, this is some honest talk for woodworkers. Most of us work alone and all of us encounter doubts and difficulty with the craft. Sharing that can bolster our faith and energy in making things. This can also benefit those who have to put up with our passions or just want some inside baseball about the craft of making really nice stuff from wood.
I will cover:
Design, starting with the sketches above
Wood and materials
Construction plans, problems, and detours
The first question, however, is posed in the title. From the outset, a maker has to be convinced that the object is worth building. The concept must be strong, clear, and compelling. The energy has to be there. The plan to execute it must be sound. That's right, the plan, but as boxing great Mike Tyson has been quoted, "Everybody has a plan until they get hit in the mouth."
Here we go.