• Saturday, December 19th, 2020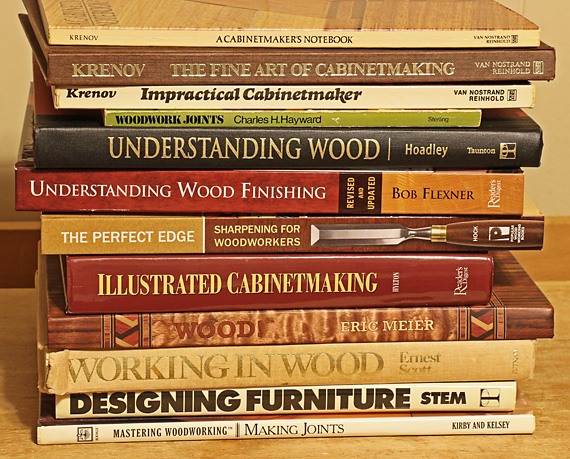 Disclaimer: Or what they do tell you but you might not notice.
I offer for your consideration the following four points regarding learning woodworking:
1. No matter the amount of instruction you receive or the sources you consult, you ultimately have to get into your shop, and with your brain and hands, find your personal approach to building things with wood. This is not to say you should wing it, nor adopt a sophomoric attitude toward competent instruction, but you must find the way to deliver yourself – your talent, ambition, and, yes, courage – through your fingertips to the work on the bench.
2. Learning is continuous. Yes, you reach a point where the general principles of woodworking come together in mind and hand, and from there it is easier to add new skills. But new frontiers are always out there, and will always be humbling and challenging. For me, some examples are use of non-wood materials, art skills such as carving and marquetry, bent lamination panels, along with many more.
3. The corollary of the second point is to beware of being bedazzled by any so-called expert who you might think has seen it all and knows it all, and so can be relied upon for all definitive answers. Sure, there are some great woodworking teachers out there, but none that should supplant your common sense. We all have more to learn.
4. I've made this point before but it bears repeating. The most difficult part of making a piece is the big picture – putting all of the elements together. This is true, I suppose, of any field of endeavor.
The design must create enthusiasm. The wood, joinery, and construction plan must make sense to carry out the design. Each of the construction elements – stock preparation, joints, finishing, etc. – must be coordinated and carried out with cognizance of their roles along with particular attention to the critical junctures. Furthermore, you must be willing and able to make adjustments and corrections along the way based on continuous assessment of the work.  
The only way to get good at this, which is what really makes you a "good woodworker," is to build things!
One more post in this series is coming.