• Monday, December 07th, 2020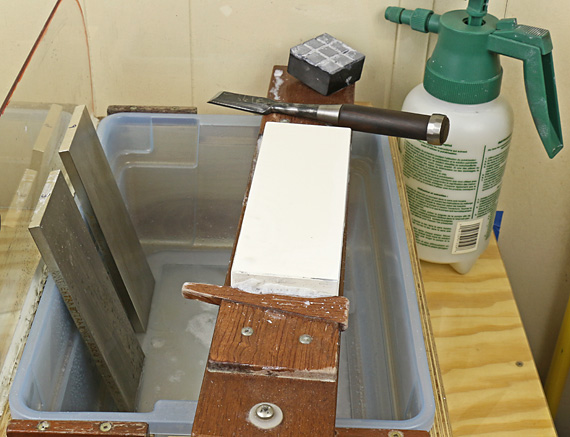 Disclaimer: Or what they do tell you but you might not notice.
Just as you cannot be a good woodworker without understanding a lot about wood, so too, you must be a highly capable sharpener. However, with all the available information and devices devoted to sharpening, it is easy to forget about the other end of the matter – blades get dull.
In fact, a plane blade, for example, starts to dull almost immediately when it is put to work. So, to be practical, you really should think of sharpening and dulling together as a system. Teaching demonstrations may finish with an impressive hair shaving flourish but that is not the full story of what you do in the shop.
The first step in an effective system is to consider the steel type and quality when choosing tools. For example, I value my Japanese chisels for how sharp the edges can be made but more for how long those edges last. The point is to think about how that nice sharp edge is going to play out when you are making things with it. 
Here are a few more hints in thinking about a system: 
Each sharpening procedure, including the edge geometry, should be customized to the tool, the steel, and the intended use.
For smoothing planes and paring chisels, plan your work to make the best use of a pristine edge. 
Consider the trauma incurred in the steel just behind the edge, especially when grinding a fresh bevel. I avoid grinding out to the very edge whenever possible. I refer you to Brent Beach's site for more on this.
An edge rarely has to be perfect, and rarely is. Get to work. 
If your sharpening station is not easy to set up, you'll probably be working with inadequate edges. 
Remember that the edge wears on both the beveled and the back (flat) sides. To get a sharp edge, you have to remove the round over on both sides. The back side of a plane blade can be surprisingly prone to neglect when sharpening, even if it was flattened well in preparing the blade when it was new. The solution is David Charlesworth's "ruler trick." I use it on almost all of my plane blades. 
One more thing: Still not enough attention is given in teaching materials to the need to adjust the amount of camber in plane blades according to the bed angle. I pointed this out more than ten years ago here.