• Saturday, February 10th, 2018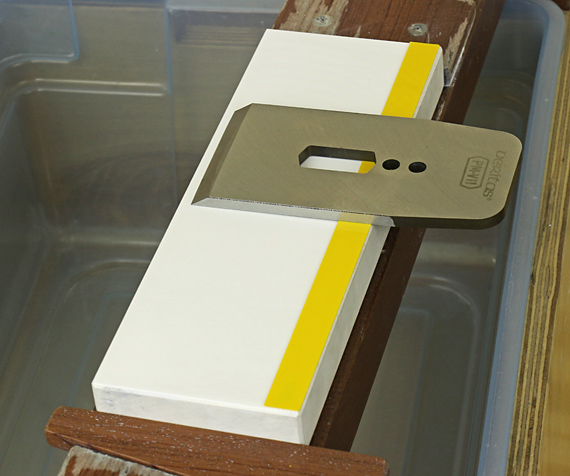 A strip of 0.020″-thick plastic shim stock, about 1/2″-wide and the full length of the stone, facilitates the Ruler Trick. The plastic is the same thickness and width as the 6″ steel ruler I had been using, but the blade slides on it more smoothly, and it allows use of the full length of the stone.
I lightly and uniformly scuffed the bottom of the plastic with 80-grit sandpaper, stroking perpendicular to the direction of the blade motion used in executing the ruler trick. I used fine sandpaper to soften the corners of the long edges of the plastic where the top meets the sides. This preparation, plus the low friction of steel on plastic, makes this plastic "ruler" surprisingly stable on the stone.
The Ruler Trick, taught by David Charlesworth, removes the "wear bevel" of a plane blade with greater speed and accuracy than by working the back of the blade fully flat against the stone. In other words, it helps in the necessary task of accurately creating two planes of steel that meet at a sharp edge. It is useful for nearly all plane blades but particularly valuable, almost essential, for bevel-up blades.
With the blade elevated on one side of the stone by 0.020″ and the edge reaching 2″ across the stone from the inner edge of the plastic "ruler," an angle of only about 1/2° is created on the "flat" side of the blade. [tan-1 (0.020/2) = 0.57°] This amount has no significant effect on the bevel angle of the blade, nor on the attack and clearance angles of bevel-up and bevel-down planes. The facet is very narrow, perhaps 1/32″-wide, created with just a few strokes on only the finest stone.
[Addendum, February 14, 2018, updated: I received the April, 2018 (#238) electronic issue of Popular Woodworking magazine today, and note in the "Tricks of the Trade" section on page 12, a reader contributed essentially the same "trick" to the magazine as I have described here on my blog. He used plastic from a milk jug. His trick also appeared in the November 2016 PW.
The PW contributor obviously came up with the idea independently of my writing. I do believe I also came up with the idea independently, but now I think it's possible that I was influenced by what I probably saw earlier in the November 2016 issue. I really am not sure. Therefore, I credit Jonathan White, the PW contributor, for the idea.]