• Sunday, February 11th, 2018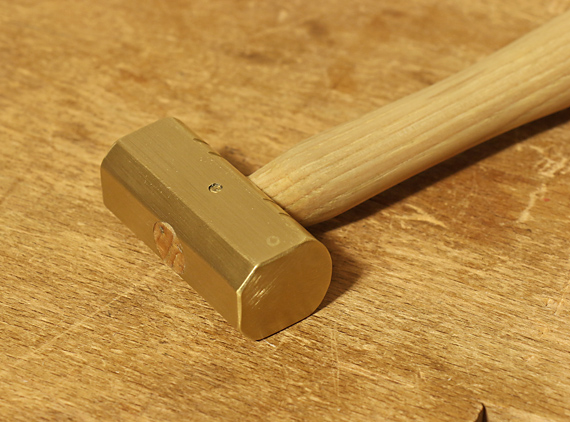 This modified brass hammer is superb for adjusting plane blades. It shares the functional advantages of a small Japanese octagonal steel hammer, but the brass is kinder to blades.
I created the quasi-octagonal shape from the original cylindrical head of a Grace USA 8-ounce brass hammer using an 80-grit belt on the Ridgid oscillating vertical belt sander. There was no need to remove the head from the handle. I dressed the corners with a mill file, and then finished everywhere with a medium-grit SandFlex block.
I crowned one face (shown) for use on the body of a wooden plane. I left the other face flat. A tiny engraved circle on each side of the hammer indicates the crowned face.
The flat sides allow better access and contact of the hammer face to parts such as wooden wedges, the sides of a plane blade, and the chipbreaker of a Japanese plane. The small diagonally-oriented sides permit access to small blades in tight areas such as in a small shoulder plane.
I like this hammer better than any of the cylindrical or square hammers sold for the same purpose. It also retains its general use when a lightweight, soft-metal hammer is needed. You can find the Grace hammer for less than $20.
The modified brass hammer is shown below, along with a steel Japanese hammer.