• Friday, January 14th, 2022
This is the Veritas Bevel-Up #1 plane, which I have been using for a year now. With a 1 7/32″-wide blade, it is indeed small but it works legitimately as a seriously useful plane. An ancillary tool, not a necessity, still I reach for it a lot more than I expected, so I want to share its merits with readers.  
This plane excels for small or concentrated work where its maneuverability and the vision of the work that it affords are significant advantages. In fact, even large projects involve plenty of detail work, such as a leveling touch-up at the shoulder of an assembled mortise and tenon, and fitting small components, especially those involving angles and round-overs. 
What makes this plane worthwhile for me is the feel. While there is some crossover in function with a block plane, this plane is different. Getting both hands in non-cramped positions on the handles of the BU#1 away from the sole affords feedback and control that I really appreciate. I can readily feel the tilt, and I like the excellent visual clearance. I also find that it handles significantly better than the Stanley style (bevel-down) #1.
I keep the BU#1 tuned about like a smoother with the blades mildly cambered. Because there is little momentum behind this small plane, it is particularly important to keep the blades sharp, especially if using a high attack angle.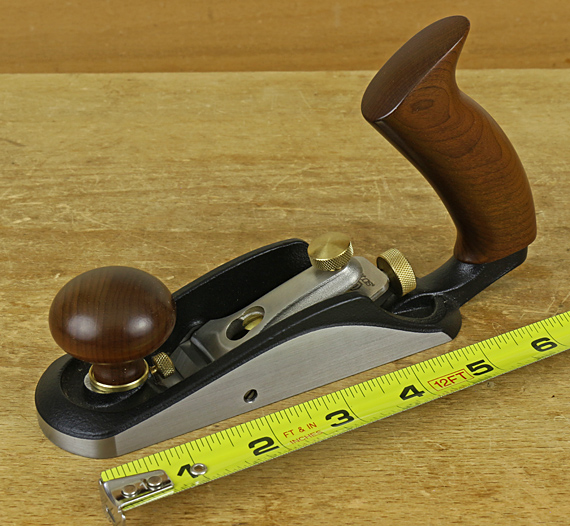 This plane has a 15° bed so you can sharpen with a secondary bevel of 30° for a good all-round attack angle of 45°. It is also useful to keep a second blade sharpened to 40° or 45° for a 55° or 60° attack, respectively, to use as a touch up plane on difficult grain. The short sole helps in this function. By the way, I would prefer a 20° bed but I've covered that issue at length elsewhere. 
Other features that I like are Veritas' Norris-style combination adjuster with set screws near the front of the blade to make responsive lateral adjustments, and the adjustable front sole plate with a retainer set screw to easily regulate the width of the mouth. The sole of the BU#1 that I first received was slightly but significantly concave along its length but Lee Valley, being the great company that they are, exchanged it without bother. I slightly touched up the sole of the replacement, just because I'm picky. 
The BU#1 does not suffer from the unfortunate handle design that plagues most other Veritas planes. (They can be replaced – talk to Bill Rittner.) It has only a mild curve but this works well for this plane; it feels right and comfortable to me. 
My usual disclaimer: This review is unsolicited and uncompensated. My goal is only to point out good tools so you can make great stuff.