• Tuesday, December 23rd, 2008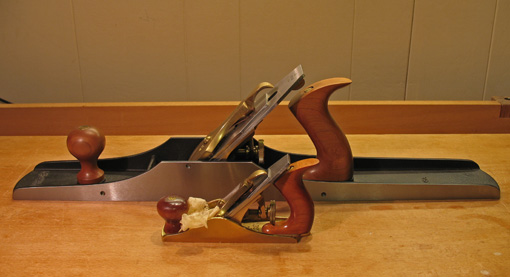 It is easy to see how the #1 bench plane might not be taken seriously as a real working tool. With a 5 ½" sole and 1 3/16″ width blade, here sitting beside the 8 pound, 22″ #7 jointer, it may be regarded as merely a nifty miniature suitable for collectors. However, I don't collect tools, I only want gamers on my tool roster, and the #1 is fit and ready to play.
The blade is bevel down, with a cap iron, on a 45 degree frog which is adjustable to control the mouth width. There is the usual blade depth adjuster nut, while lateral adjustments are easily done by tapping with a small hammer. I use a two-handed grip as with a larger bench plane, but with only the left thumb and first one or two fingers on the front knob and the right thumb and two or three fingers gently holding the tote.
I find the #1 is useful for many tasks. The obvious one is planing small pieces where a full size plane would obscure any view of the work and tend to tip at the start and finish of the cut. It is handy to use on assembled projects where I need a light, maneuverable plane, such as in trimming joinery or truing a table top bearing part.
When I want my hands very close to the cutting edge for a sensitive feel of the blade on the wood, the #1 gives me the control I need. For example, it works well planing around the joint line at the junction of a rail and stile in a small frame. The #1 can also fix small defects in surface finish planing where a larger plane would bridge the area.
It is true that a block plane could do much of this. However, I keep the #1 tuned like a bench plane, with a slight camber in the blade, and the plane lends itself to a two-handed grip, so it feels more natural and controlled to use the #1 for these tasks. Note that because there is not much momentum behind the cutting edge, the blade must be kept very sharp.
This is certainly not among the first few planes to buy and it is a role player, but it's not a bench warmer and it has definitely earned its place on the team.
I will continue to laud some of my favorite tools on this blog, particularly if I think they are not well known or just really cool.