• Monday, November 14th, 2016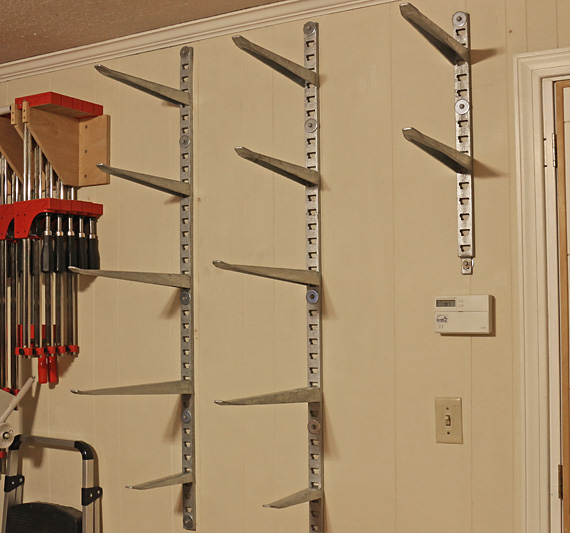 This upgrade of the main lumber storage rack in my shop has worked out well. Manufactured by Slacan Industries, based in Canada, it is designed to hold underground cable but is sold to woodworkers by Woodcraft and Lee Valley as a lumber rack.
The formed-steel brackets, U-shaped in cross section, are available in 10″, 14″, and 18″ lengths. They freely insert at 1 1/2″ intervals into the rolled-steel channel wall straps, which come in 55″ and 24″ lengths.
The versatility of this rack is the main reason I chose it. The movable brackets of different lengths make it easy to adjust the rack as storage needs change. It is now easy to create room to store wood by category or to make a pile with spacers between boards.
This thing is mega beefy – all parts are made from 3/16″-thick steel. Fuhgeddaboudit: a single 18″ bracket is rated by Slacan to support a 300-pound load applied one inch from the outer end!
What you cannot forget about is properly installing the rack. I consulted a structural engineer to make sure the wall studs could safely hold the anticipated load of lumber in the way I would set up the rack.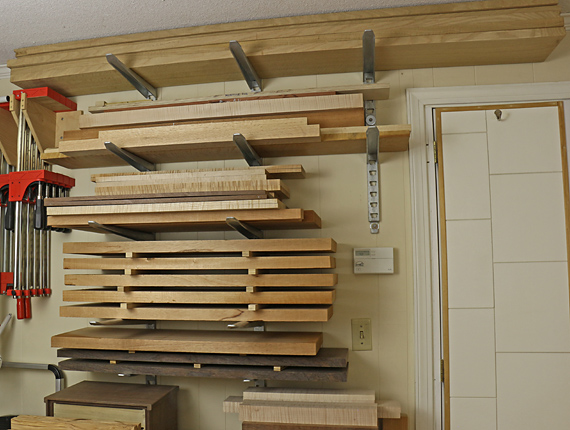 I have limited room in my small shop so there are two 55″ straps spaced 16″ apart on studs, plus a 24″ strap for the upper two or three levels that are more heavily loaded. I attached the straps to the studs with Simpson StrongTie 1/2″ x 3 1/2″ structural screws (#SDS25312), using 1/8″-thick x 1 1/2″-diameter washers to bridge the large bracket-insertion cutouts; there are no dedicated mounting holes in the 55″ straps (and those on the 24″ straps are large).
The galvanized finish on the straps and brackets is rough. I used a bastard-cut mill file to quickly ease the top surfaces of the brackets and their connection tabs.
I bought the rack from Woodcraft on sale as a set, which had a few more parts than I needed but was still cheaper than buying individual parts. With more storage capacity, I now have to resist buying beautiful wood that I don't need (yet).