• Sunday, November 13th, 2016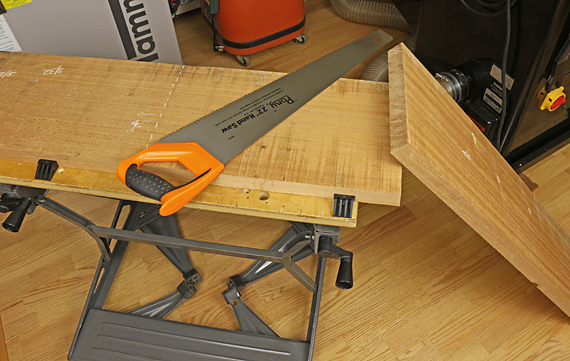 So often I bring to mind the admonition from James Krenov in the Fine Art of Cabinetmaking, "Cross-cutting should always be preceded by careful thought."
When divvying up rough stock for a project, it is those early crosscuts, often particularly the very first one, that so much determine the successful use of the wood, and in turn, the entire success of the project.
We tend to let our guard down at this early stage because the lumber is rough and the cuts are rough, so it seems like little could go wrong. We are not naturally in a precision frame of mind as when approaching joinery work. Moreover, it seems like there is so much wood now, maybe much more than needed.
But beware, these early breakdown crosscuts will in large part dictate the figure and color matching of the wood in the finished piece. After The Crosscut – the one that felled the tree – and the sawing and drying of the boards, these initial crosscuts in your shop are critical to the efficient use of your expensive wood.
As with most matters in woodworking, winging it is not often rewarding. So think it through with the measured drawings nearby, and tape measure and chalk in hand. Be alert. Look at the wood, study the figure and grain, find the defects. Make thoughtful decisions.
The eternal woodworking quest for a board stretcher remains unfulfilled, so I heed the advice of the master.