• Friday, June 20th, 2014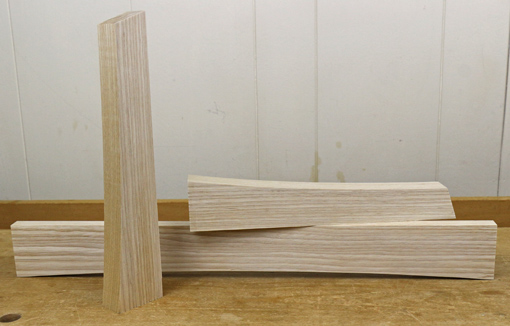 From baseball bats to crates to tool handles, ash certainly earns its keep as a versatile workhorse wood, but how about for fine furniture?
For this discussion, ash, as a furniture wood, refers to what is generally sold as "white ash" or just plain "ash," most of which is Fraxinus americana, though there are several other commercially significant ash species.
Ash has a prominent and usually fairly uniform annual ring figure produced by the great difference between the large earlywood cells and dense latewood. It lacks the flashy visible rays of the oaks, and the large majority of it is composed of unimposing light blonde sapwood. So, is ash a boring wood?
Used unimaginatively in low-end furniture, yes, it is rather boring. However, like most products of nature's bounty, the key is how it is used and what the craftsperson can draw from it.
To my mind, one of the prime virtues of ash is that its rift-cut or quartered surface is great for bringing forth and enhancing artful gradual curves. The uniform figure of the wood seems to sensitize the eye to subtle design. It energizes the form of a piece. Sometimes it reminds me of the raked sand in a Japanese Zen garden – not boring, but peaceful.
Ash can be a pleasing contrast to more intrinsically glamorous woods, but it can also shine on its own. Curly ash is beautiful and impressive, yet retains the species' inherent composure. I recently picked up some beautiful curly pieces – I'm thinking thick veneer drawer fronts for these – from Kevin Koski at Curlymaplewood.com, where you can find lots of other gorgeous curly species. Also, ash heartwood has a nice soft brown color that creates interesting contrast when used judiciously alongside the sapwood.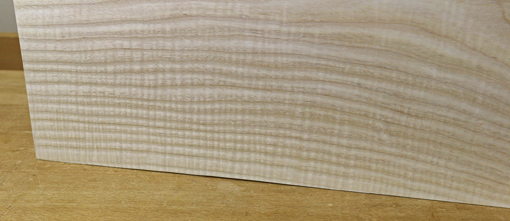 With green-to-oven-dry shrinkage values of 4.9% radial and 7.8% tangential (T/R = 1.6), ash is decently stable, and it generally works well with machines and hand tools. I've enjoyed using it for frame and panel work, legs, drawer parts, and in bent laminations. The species presents a challenge and an opportunity for thoughtful design and balance in a piece.
I like ash finished with a less-is-more approach, using a "water white" acrylic water-base or maybe thin bleached shellac.
In recent years, ash trees in the central and eastern US have become seriously threatened by the emerald ash borer. Here are some ways to help avoid spreading the infestation.
By the way, all of the "Woods I love" posts, with more to come, can now be conveniently viewed on a single page as one of the Series Topics.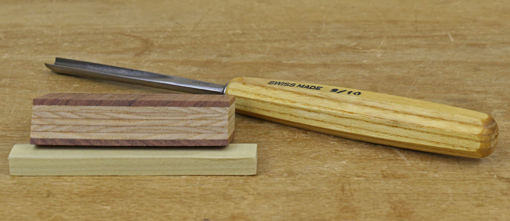 Category: Wood
| |
Comments off