• Wednesday, April 21st, 2010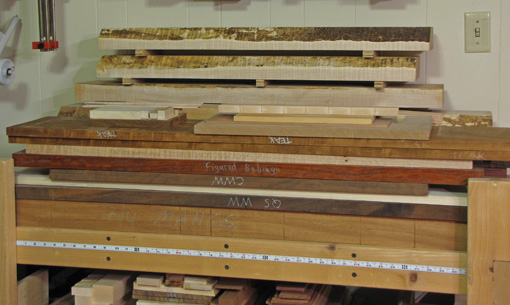 A design on paper or a monitor can never move us like the presence of the real object. It isn't a work in wood without the wood. Sometimes a special piece of wood is the genesis of a project, sometimes it follows the design, but either way, the choice of wood is never an afterthought. It goes hand in hand with the design.
I never get past the first idea or sketch without considering what woods might bring them to life. Sensitivity to the wood is essential to creating compelling, personal woodwork. I believe that one reason that a lot of the furniture that comes from non-woodworker design "experts" looks lifeless is that the wood is just "filled in," like a color of paint.
Unlike stone, clay, glass, or metal, wood carries the exciting variety of biology for us to behold and use! Practically, this requires that we understand and account for its properties, quirks, and even its mysteries. The differences in choosing, for example, butternut versus bubinga will affect almost every aspect of a piece.
Research as to the characteristics, limitations and potential problems of the wood may be necessary, especially if using an unfamiliar species. Here are a few helpful sources: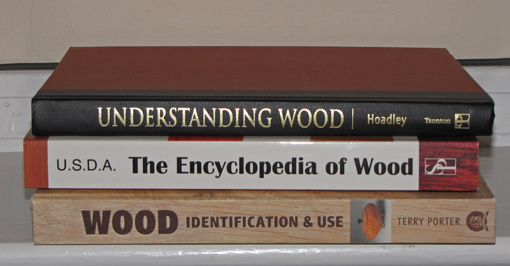 Understanding Wood by Bruce Hoadley. If there is any one "must have" book for woodworkers, this is it.
Wood Handbook/Encyclopedia of Wood from the Forest Products Laboratory. All 486 pages are available as a free pdf here. Click on "View" under "Wood handbook – All Chapters" for the 13.90 MB download. Also available from Lee Valley in printed form.
Wood by Terry Porter. A beautiful compendium of pictures and descriptions of woods to whet your appetite.
FPL Tech sheets Look on the right side of the page for "Wood Properties (Techsheets)." Very helpful data such as wood movement values for many species . 
Paul Hinds' unbelievable website with a gazillion pictures of a zillion species of wood. 
Purdue Cooperative Extension site Select "Hardwood Lumber and Veneer Species" from the drop down list. Practical monographs on domestic species with helpful pictures showing the range of quality and figure within each species.
Most important, you've got to get your hands on the particular wood you are planning to use, see how it works, moves, finishes, and watch and live with it a little while before using it in the project.
For the mirror, the example piece for this series of posts, I wanted a densely figured wood that would look good in narrow widths. I held up some pieces next to the bathroom mirror: maple, other light woods, and walnut, just didn't give the look I wanted. The reddish color and swirly figure of waterfall bubinga were hits. I had false started with some figured makore only to find that I seemed to be sensitive to the dust and I wasn't as fond of the figure as I first thought. I also had to junk one of the pieces of bubinga that had some stresses in it. That's wood for you. I love this stuff.
Next in the series: Researching the design and techniques.