• Sunday, November 29th, 2015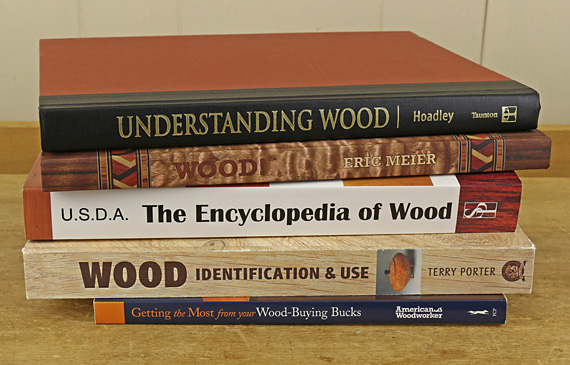 A good woodworker must know a lot about wood. Unlike glass, clay, and metal, wood is a product of biology and so, wonderfully, comes to us in incredible variety. No project is likely to be successful unless the properties of the species and even the particular boards at hand are taken into account.
To that end, here is a compendium of the best resources, in this writer's view, for woodworkers to increase their practical knowledge of wood.
Top two books
An easy choice for the premier book is the venerable Understanding Wood by R. Bruce Hoadley. First published in 1980 and revised in 2000, this is the book every woodworker needs to understand wood anatomy, strength, dimensional changes related to moisture content, drying wood, and much more.
For information on specific species along with color photographs, plus a concise exposition of basic wood concepts, the newly published Wood! by Eric Meier is the best choice available. It has major entries for about 250 species plus about 100 more covered in tables and lists. This book rises above several other similar attempts in that it is truly directed at the hands-on woodworker.
Not to be forgotten
In the same vein but with greater depth are 22 incomparable articles written by the late Jon Arno for Fine Woodworking magazine. Covered are: ashes, basswood, beech, birches, catalpa, cherry (two articles), chestnut, hickory and pecan, ipe, mahogany, maples, oaks, orchard woods, pine, poplars, sassafras, sweetgum, sycamore, and walnut, plus articles on health risks associated with wood and wood identification. Go to the Fine Woodworking website and search Jon Arno. You can get full access to everything in the site (and download PDFs of articles) for reasonable fees.
Four more books
The Wood Handbook (sometimes titled in print as the Encyclopedia of Wood), published by the US Forest Products Laboratory, has a wealth of technical information on all wood matters. Best used as a reference, there is no reason not to have this book: it is available as a free download from the FPL site. It is also available in print.
With the Grain: A Craftsman's Guide to Understanding Wood, by Christian Becksvoort, published in a low-key but appealing style by the Lost Art Press, is a very good, very readable option to get just about all the basic information in concise form from a great woodworker who really knows wood. Highly recommended.
Wood: Identification & Use, by Terry Porter, is a beautiful, very worthwhile collection of photos and information on more than 200 species with an additional 200 briefly listed. Though I find it more attractively produced than Wood!, it lacks the latter's outstanding practical utility.
Getting the Most From Your Wood Buying Bucks, from American Woodworker, is less broad in scope but is included here for its excellent practical articles.
Online
Forest Products Laboratory's Tech Sheets (see lower right of linked page) give detailed information on many domestic and exotic species.
The Wood Database, by the author of Wood!, should be bookmarked by all woodworkers. Go there and you'll see what I mean; it's invaluable.
For true-to-life photos of wood, numbering approximately one zillion, Hobbit House has no equal. This is a great reference to see the different looks within a single species of wood.
A series of monographs on domestic species by Purdue University professor Daniel L. Cassens is available as free downloads (page down the linked page to the species list). These articles also have the flavor of being written by a guy with sawdust in his pockets.
Two more things
With all this knowledge of wood, one of the most useful ways to put it to use in the shop is with Lee Valley's Wood Movement Reference Guide. This handy wheel chart allows you to easily compute wood movement for different species through a specified range of humidity. Well worth the $9.95, I use it all the time.
When you're looking for wood (and when are you not, if you love the stuff like I do), the Wood Finder site can widen your world of sources.
Some much wood, so little time . . .