• Thursday, October 06th, 2011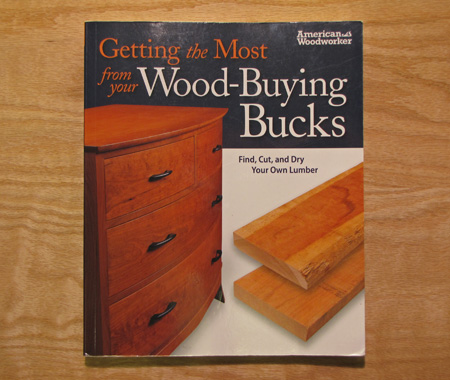 First and foremost, a woodworker needs to know wood. No degree of prowess with tools and techniques can compensate for a lack of understanding of the material into which steel cuts. The guys at American Woodworker magazine have put together a sawdust-in-your-pockets practical collection of topics that I think would benefit any woodworker: Getting the Most From Your Wood-Buying Bucks, published last year. My recommendation is unsolicited and uncompensated; I just want to share good information.
The sections of the book are:
Finding Great Wood. This includes getting wood from locally cut trees, using salvaged wood, dealing with wood defects, and understanding lumber grading.
Sawing & Milling Great Wood. Topics include flitch-cut logs, resawing, milling rough boards, and the best explanation of reading grain direction that I've ever read.
Drying Your Own Wood. Even though you might not use the plans to build your own kiln, the explanations of drying wood and moisture meters are very helpful.
Very Special Wood. My favorite section. Five different authors share their intimate knowledge of eight different wood types and species, such as spalted wood and mahogany and its look-alikes.
Special Finishes. This is a sampling of finishing strategies and principles for woods including pine, walnut, cherry, and oak.
Projects for Special Wood. Here are some interesting furniture projects and techniques for managing large slabs.
Even in areas where I think I have a good amount of knowledge and experience, I was able to pick up useful tips and helpful clarifications. Typical of Fox Chapel books, the layout and photography are attractive and inviting.
What I do not like about this book is the title. The book does give information for you to achieve that goal but, as a title, it underestimates the scope and value of the contents. One of the reasons I wanted to write this review was my concern that the book might be overlooked because of its title.
I've tried to open the cover for you in this review, but I think if you take a look for yourself, you'll like it. Its practical approach makes it a good addition to books I've previously recommended: Understanding Wood, by Bruce Hoadley, and the encyclopedic volumes, Wood, by Terry Porter, and Wood Handbook, from the US Forest Products Laboratory.
Don't you just love wood?