• Saturday, July 10th, 2010
I like my Veritas low-angle, bevel-up smoothing and jack planes, but I do not like their rear handles (totes). The handle has broad flat sides, and is more vertical and less curvy than a classic Stanley or Lie-Nielsen.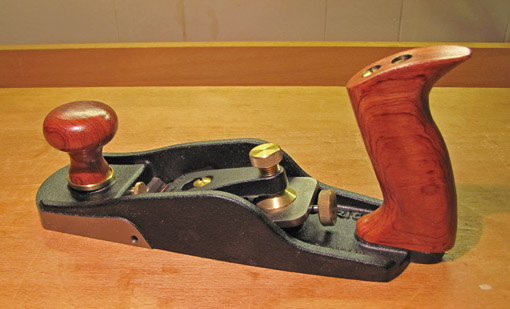 While some woodworkers may like the design, I find it to be unfriendly to my hand. Here is my prototype (in poplar wood) of an alternative. The shape is based on the classic handles. It feels right to me.
Adapting this shape to the Veritas handle mount takes some engineering. The Veritas handle is secured with two bolts that enter the base at an angle. The company supplies a full-scale measured drawing of its handle that also helps to design your own version. However, the two-bolt system prevents what I consider a nicely shaped handle because the curve intersects one or both of the bolt pathways.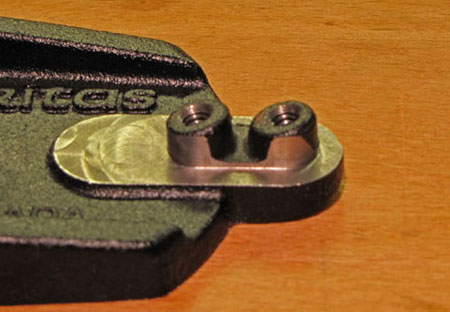 My solution involves using a short front bolt to replace the stock bolt. The counterbored stock rear bolt runs through the full length of the handle while the countersunk replacement front bolt goes through just the front projection of wood to enter its hole on the mount. This allows the wood above it to be cut away to create a hand-friendly curve in a classic style. The back of the new handle projects beyond the mount.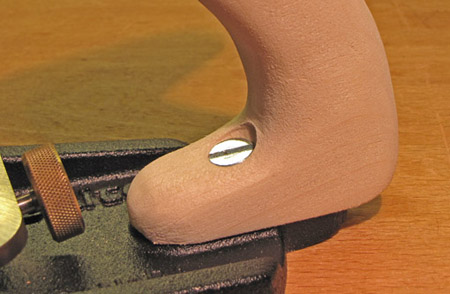 For a permanent handle, bubinga would be the best choice because of its strength. It is also a beautiful wood and will match the Veritas front knob.
I mentioned my dislike of the Veritas bench plane totes in a previous post. Since then I learned from Chris Schwarz' blog that Bill Rittner is making superb quality replacement handles for old Stanley planes. I asked Bill if he was making an alternative for the Veritas handles. He is not yet but is interested. I hope he will because, while I enjoyed developing a solution to the Veritas tote "problem," it was painstaking to make even the prototype in easy-going poplar, inelegantly sanded to 120 grit. I'd rather make furniture. Pending further testing and refinement, I think that many otherwise happy Veritas bench plane users would appreciate this kind of tote professionally made.
A helpful article, "Totes and Knobs for Handplanes," by Charles Murray, in the November 2009 Popular Woodworking describes the use of a shop-made jig to make a plane tote. The resulting tote has flat sides with roundovers made on the router table. However, it would take considerable additional hand work, starting with a thicker blank, to produce the nice elliptical cross section seen in Bill's totes. 
I will have more detail on the design and construction in a future post, and possibly an update from Bill. I also have to do more shop testing of the prototype.