• Friday, June 25th, 2010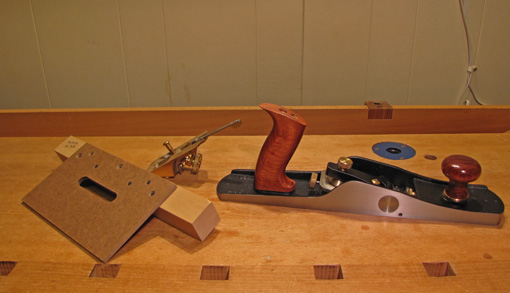 Thoughts arising while sweeping the shop floor, waiting for boards to come out the back end of the thickness planer, or putting away tools . . .
A principle known as Occam's Razor holds that the simplest explanation for a phenomenon is usually the best among reasonable, verifiable, non-simplistic possibilities. In other words, eliminate the burden of the unnecessary. I propose the Woodworker's Edge: let this principle apply to woodworking jigs. The simplest jig that gets the job done quickly and well is the best jig. The idea is to make woodworking projects, not elaborate jigs. Simple, effective jigs are cool jigs.
I wish someone would manufacture a 12″ jointer with about a 55″ bed. I mean just the jointer, not a jointer-planer combination and not an aircraft carrier monstrosity. I could use it along with my DW735 portable thickness planer. I imagine it would save a large share of the cost of a combination machine, not to mention changeover hassles, while retaining the advantages of the 12″ width. 
I wish Lie-Nielsen would make a 55 degree frog for their #4 smoothing plane (2″ blade width) as they do for their #4 ½ (2 3/8″ blade width). 45 and 50 degree frogs are available for both planes. I've used the #4 bronze nearly since it was first produced, and later replaced its 45 degree frog when the 50 became available. It is my all-round smoother and I've never used the 45 frog since. It seems the 55 would make even more sense for difficult woods in a #4 than in a #4 ½ since the narrower plane would reduce the pushing force required.
Speaking of planes, the rear handles on Veritas bench planes are . . . well, if you use them you know . . . not exactly agreeable to human hands, at least not to mine. I do understand that they are fixed with two bolts instead of the usual one and the straighter profile accommodates this. I have two of their low angle planes and otherwise like them very much. Lee Valley is a wonderful company. But the handles, please, guys, can you do something?
I wish more wood was sawn into different thicknesses within one flitch. That way table legs, aprons, and tops could be made from consistent wood taken from one flitch without having to resaw the dried lumber. I guess this would be a lot of trouble for the sawmill and maybe just too impractical, but it would be nice to have such lumber widely available. Using 8/4 lumber for all the parts of a table requires a lot of resawing.  There is always a bit of a gamble, certainly considerable waste, and more work in resawing 8/4 lumber to get 3/4″ finished stock.
I don't think techniques need to be advertised as they so often are in woodworking publications: "foolproof, super-easy, super-quick, perfect every time," etc. Woodworking is wonderfully accessible, but it is not that easy, not that quick, nothing works out perfectly every time, and techniques do not need to be foolproof because woodworkers are not fools. I guess the following is less marketable: "Here's a clear, sensible procedure that works for me, and, after some practice, will give you excellent results as long as you are careful, patient, and use the proper tools."
I'd buy that.