• Tuesday, June 15th, 2010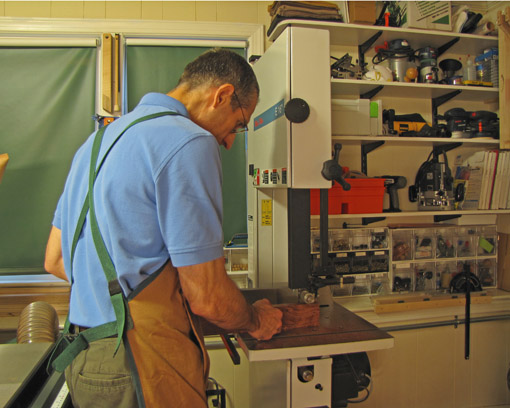 The bandsaw holds a truly special place among woodworking machines because the woodworker interacts with it differently. I steadfastly contend that developing skill with a quality bandsaw can have greater effect on a craftsman's development than with any other machine.
In use, the bandsaw feels to me more like a motorized hand tool. In contrast to operating a table saw, where the idea is to make the outcome of the cut a done-deal as much as possible beforehand, cutting at the bandsaw usually has an aspect of freedom. With the exception of resawing, I much more often cut to a line by eye than by using a fence, using it as a mostly non-jigged power tool. As evidence of the creativity fostered by the bandsaw, I use it almost exclusively in sawing pieces for mock ups. I can also feel the bandsaw's cutting action – much like a hand tool – much more than with a table saw or router.
The bandsaw also allows us to use wood in ways no other power tool can. Resawing, cutting curves in thick stock, and cutting non-parallel to the edge of a board are tasks at the heart of how I build with wood. True, I could do those jobs with hand saws, but I prefer the bandsaw the great majority of the time. For woodworkers doing other types of work, such as turning, chairmaking, shop-made veneering, boatbuilding, and musical instrument making, the bandsaw is pivotal in getting the most from nature's bounty of wood.
Consider what is involved with setting up and tuning a bandsaw compared with other machines. When setting up a jointer, it is a fairly clear-cut, though hardly easy, task: tables flat and parallel, all knife edges parallel to the tables, fence square to the table, etc. Lots of imperatives, not many decisions.
The bandsaw, on the other hand, leaves more room for personal preferences within a range of reasonable options. Do you like the wheels flat or crowned? What style of blade guides do you prefer? Where do you like to set the thrust bearing? How much tension on the blade? On these and many other bandsaw tuning issues, reasonable people can disagree. Though only two different blades cover almost all of my needs, it took me considerable research and trial and error to refine those choices from the myriad available, leaving aside many other good ones.
This is another way of saying that the bandsaw allows for personalization. In fact, it really demands that a skilled user exercise his preferences more than with other machines.
So, while I might sound like a bandsaw salesman, my real purpose in this post is to encourage woodworkers who are building their tool set, and who might be, ahem, on the fence, to put the bandsaw– and bandsaw skills – high on the list. It has the versatility and freedom of a hand tool, with a machine's muscle.