• Sunday, April 04th, 2010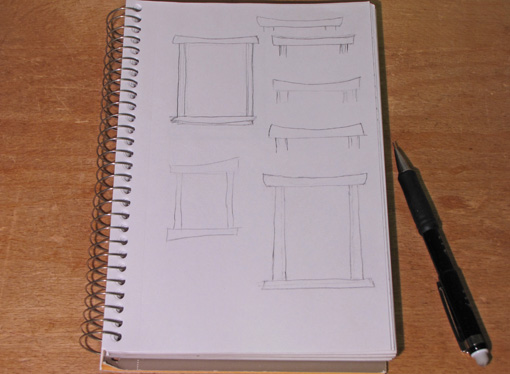 An idea is a notion, an inkling. It is not a developed concept of a piece; that comes later. It is what you start with. Many ideas come to mind, some making a quick exit, some lingering, and some shining brightly. Some may gather light slowly, some may later fade, and maybe some will be true love at first sight.
There are two important matters in this. First, get a sketchbook and use it. It is a place to save ideas and to play with them. I like a small (6″ x 9″) book for convenient portability, though larger books offer the advantage of juxtaposing more sketches on one page. Maybe an iPad will do. Second, you must recognize a good idea – one that demands further exploration. Ultimately, that is a personal feeling that you've got to trust.
Ideas are found anywhere and everywhere. You may start with a specific functional need, such as a dining table to seat six people, or have some great wood that "tells you" what it can become, or just want to make any kind of fulfilling piece. In any case, look at lots of furniture, old and new, as well as architecture, nature, and more. Visual inspiration may come from sources that are seemingly distant from woodworking – pottery, roof tile, shoes, a doorknob, a turtle, or the dark recesses of your mind.
Go to Google Images and search Mayan art, coffee table, Greek temples, or whatever. Don't be shy. Einstein said, "The secret to creativity is knowing how to hide your sources." True, I suppose, but there should be no guilt involved. If you are designing a dining table, for example, look at more than just dining tables. Maybe a plant stand or a Japanese shrine will generate an idea for the table legs.
Doodle in your sketch book. Drawing ability is handy but not essential. Get something on paper that has meaning for you. I find it more productive to remember what I thought I saw and work with that, knowing that the image or motif has surely been churned in the machinations of my mind before it even becomes a sketch. Fine, I think. Maybe someone out there will make something truly 100% original, but probably not. I would bet all "original" designs are derivative to some extent. Those notions that "pop into your head" almost surely have some external basis.
On the other hand, unless you are doing reproduction work or working from plans, I feel there is no point in trying to copy or "be like" someone else's style. It will probably be a poor copy because you are not that other person. Besides, why would you want to?
As you redraw your sketches, they become further modified and more your own. The new sketches can modify an overall look or refine only parts or details. Stay with it, explore, reject and develop as you wish. While there is still much work to be done in the design process, you are on your way to producing a clear concept of what you want to build.
I posted this little sign below the handle of my drawing cabinet: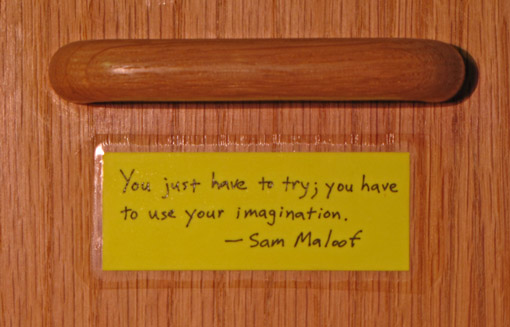 Next: the Concept