• Monday, February 15th, 2010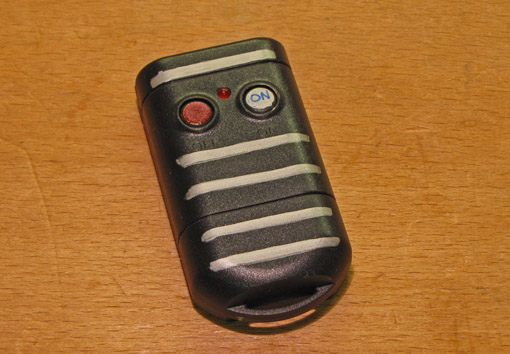 These are simple shop set ups and work habits that, while not original or profound, nevertheless make a real difference in helping me get things done in the shop. If a fellow woodworker was observing my shop and work habits, he might remark, "I notice that your shop has . . ." or "I notice that you . . ." So, I'm passing along these little helpers with the hope that they will be helpful to you too.
1. Remote switch for the dust collector. I can operate the dust collector without leaving whatever machine I'm using. In my small shop, the low-budget 610 CFM dust collector's hose goes to each machine as it is used. The remote switch, purchased at a local Ace Hardware, just plugs into the wall outlet and easily handles the 120V/8.0A motor.
2. Autostart shop vac. I would not want to use the random orbit sander and the oscillating spindle/belt sander without this type of vacuum. The tool plugs into an outlet on the vacuum which cycles on and off when operating the tool's power switch. There are many brands and models of shop vacs with this feature. I find my old model Fein Turbo II to be quiet and efficient.
3. Magnifier on workbench lamp. This is handy to have readily available for checking for a nick in a router bit, or a million other tiny things. Various models are available in art supply stores, at Rockler, and other sources.
4. Rechargeable light. I use this all over the shop for many jobs where I want a more directed light, such as at the bandsaw, or to create a low, glancing light, such as for evaluating the surface quality of wood while using a smoothing plane.
5. My large hand tool cabinet is two steps to the right of my workbench. I reach for tools quickly, without breaking the flow of working. Since I am right handed, the cabinet feels naturally accessible off to my right.
6. One-reach tool storage. As much as possible, I like to store tools that are directly accessible. I don't like the feeling of hesitation or inhibition that seems to arise when a tool must be unearthed by moving other gear.
7. Wear an apron. Somehow, putting on my apron gets me oriented for work. It seems to tell me that now it's time to get serious and get work done. I feel more free about wiping my hands on the apron than I would on my clothes, and I freely lean into dusty work. I've found the Lee Valley canvas apron to be just right.
8. Separate planing from sanding, and metal working from woodworking. Sharp tool edges are vulnerable to sanding grit. I also don't like the idea of hacksaw "dust" and metal filings getting into the grain of my workbench or work pieces. So I separate these processes with a good clean up with the shop vac.
Simple stuff that helps. Happy woodworking.