• Sunday, December 06th, 2009
Illustrated here are several uses of the system of holes, Pups, Anchors, and stops described in the previous post. The simplicity of the layout engenders versatility. If it was tailored too narrowly to specific tasks, much of the creative range of the system would be sacrificed. As it is, introducing a piece of scrap wood here and there can effect solutions to the continually evolving work-holding demands of new woodworking projects.
On the left side of the bench, a nice piece of scrap wood acts as a planing stop. It is secured to the bench with countersunk 1/2-13 flat head blots that go into the removable Anchors positioned in holes in the bench top. I prefer the recessed bolts because I am uneasy with protruding metal in the vicinity of a moving hand plane.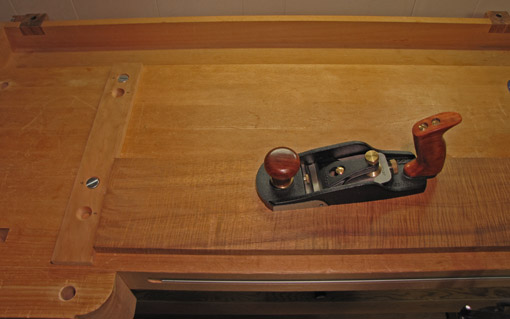 Note that the "nice scrap" has an extra pair of holes that allow it to be used in a pair of holes parallel to the length of the bench with Anchors in them. The two pairs of holes in the nice scrap serve as permanent templates for producing other Anchor accessory pieces as needed. This kind of stop is also useful for work with the Domino joiner.
The photo below shows a board blocked on three sides using the stops on the left side of the bench, Pups in the vise chop, and a piece of scrap bolted into Anchors. Note that the pair of holes in the scrap are offset to one side, giving two effective projection widths from the Anchor points. Think of these scraps as extended dogs.
The photo below shows a drawer held in position with creative use of Pups, Anchors, and scrap wood. In this arrangement the top edges of the front and two sides can be planed without the work budging.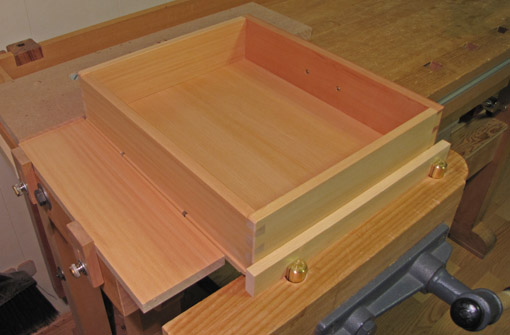 On the right side of the bench in the photo below, the regular bench dog and tail vise system is used in conjunction with two Pups in their holes (prairie dogs?) that prevent lateral shifting of the work. This is an alternative to the setup on the left side of the bench and it can also accommodate options with Anchors. This three-sided blocking of the work piece is handy, for example, when scrub planing diagonally across the board, which might be necessary for this piece since it is too wide for my  machine jointer. These systems are also especially handy for planing door frames which inevitably involves frequent changes in direction of attack with the plane.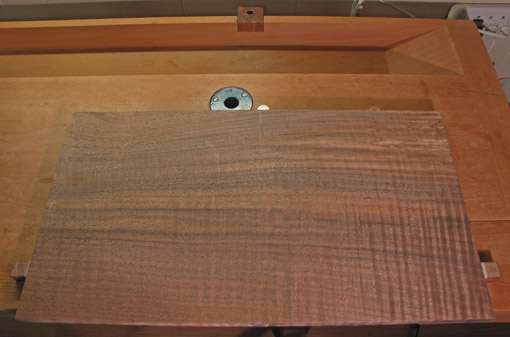 The main point is that there are surely undiscovered variations and creative adaptations of this system that will evolve as the work demands. With a minimum of hardware and alteration to the workbench, its foundation is simple and easy – the way I like it.