• Friday, August 25th, 2017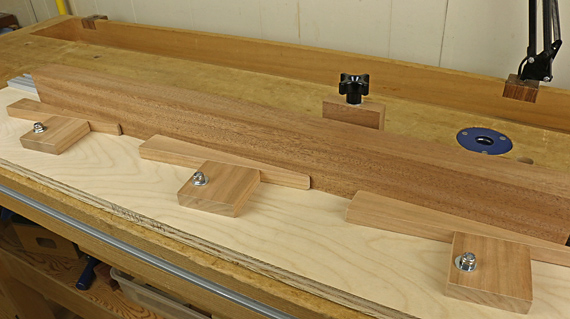 In two earlier posts, I presented a router mortise jig. As writing is a good occasion to rethink matters, I have upgraded the clamping system on the jig. What's more, this general design for a wedge clamp system can be applied to other shop jigs and fixtures to increase their holding range.
The mechanical advantage produced by the humble wedge is a wonderful earthly thing. I used larger blocks that rotate on an off-center pivot to accommodate a much greater range of workpiece width. The plywood base of the jig is also wider than the original to allow for this, and thicker at 3/4″ for greater strength. The blocks and wedges are 5/8″ thick.
Each block is 2 1/2″ square. The center of the pivot hole is 1/2″ from one edge, and 1″, 1 1/2″, and 2″ from the three other edges. Thus, there are four different rotational positions to create a large range of clamping width capacity.
Below, the block is in position to clamp the widest workpieces.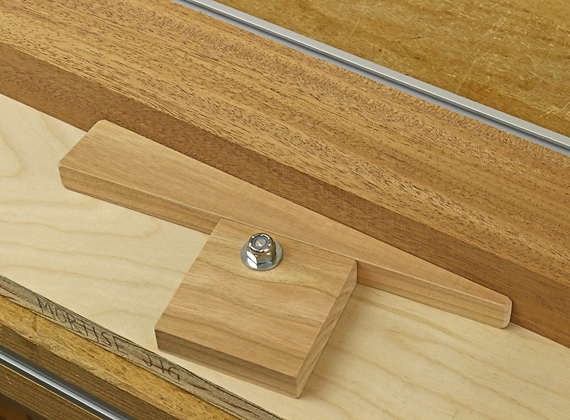 The wedge is 8 ¼" long with a 1:7 slope. This produces slightly more than 1/2″ range of clamping width, which spans the difference from one block position to the next.
Below, the block is in position for the second-to-narrowest clamping capacity.
A 1/4-20 x 1 1/2″ hex bolt, unthreaded in the 5/8″ nearest its head, enters from the bottom of the base with the head recessed in a counterbore. It is secured above the block with a nylon-insert lock nut, which is tightened to allow free but firm rotation of the block.
The wedge clamps work so well that they may obviate the need for the toggle clamps. The wedge system particularly makes the jig better for mortising frame members. Because these are narrower than leg blanks, they are best clamped in a pair to increase the seating width for the base of the router jig.