• Saturday, April 30th, 2022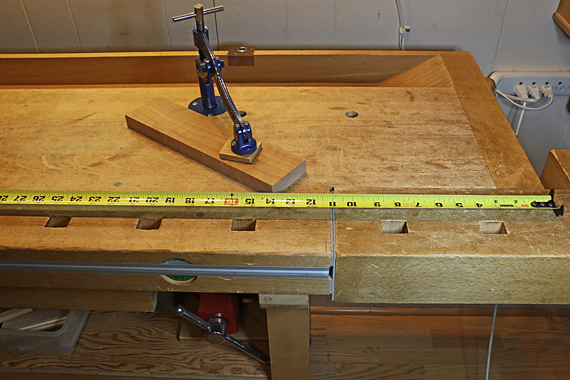 The Record #146 holdfast has generated some inquiries over the years, so I'll address the topic in this post. I bought mine nearly 40 years ago, and while still a good tool, I would not recommend it now because there are better choices.
I like the Gramercy holdfasts, which I have been using more than the Record for more than 10 years now. They fit in simple 3/4″ holes that you drill directly into the bench top. They cost only $39.95 per pair. I suggest buying the pair because it is helpful to use them together when you want a very secure hold to resist lateral force on the work piece. And you will certainly want more than one of these holes in your bench top because they can be used for many other holding tools, most notably Veritas products including Bench Pups, Wonder Pups, planing stops (I made my own out of wood), and their own holdfast.
If you do want to use the Record, you have to decide where to place the metal collar that it requires. This collar allows you to place lots of pressure on the work if you need it, making this the strongest holdfast I've seen. The collar is not really too obtrusive (I don't recall having rammed a cutting edge into it) but it would not be there if I was setting up a bench now. Happily, I installed only one, those many years ago, and the location has worked out well.
This collar placement allows a work piece to be held where I can chop dovetails over the right leg structure of the bench. It also can work in conjunction with the tail vise and dog system on the right side of the bench. The pad of the holdfast reaches close enough to the front and to the right side of the bench for practical purposes, and still extends about two feet from the right edge of the bench.