Consider the options for joining solid wood boards across their widths where the endgrain of one board meets within the length (not at the end) of the side grain face of the other. This is what you see in the pieces above and just below, which are constructed with dowel joinery.
A common situation is joining the sides of a cabinet to the top and bottom where the boards do not meet at the end of each. If they did, dovetail joinery is usually the best choice. Another common situation is an interior divider or fixed shelf of a cabinet or bookcase.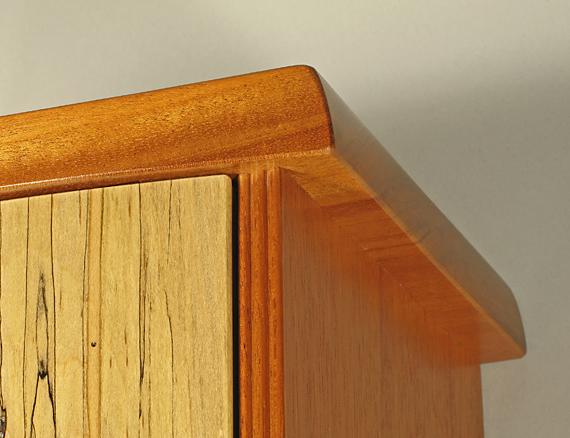 Before delving into the topic of this series, here are some alternatives that might be used in the same situation as carcase dowelling. By the way, this series is not about post and rail joints with dowels, a different matter with its own considerations. 
1. The multiple wedged through mortise and tenon. This has plenty of side grain glue surface and the flared mortises coupled with the wedged tenons provide a mechanical lock. It does take a lot of work though, and the exposed wedged tenons may be a nice feature or unwelcome. The blind version of this joint is an exercise in masochism.
For an efficient method for this joint, see my article in Popular Woodworking, issue #170, August 2008, pages 62-65.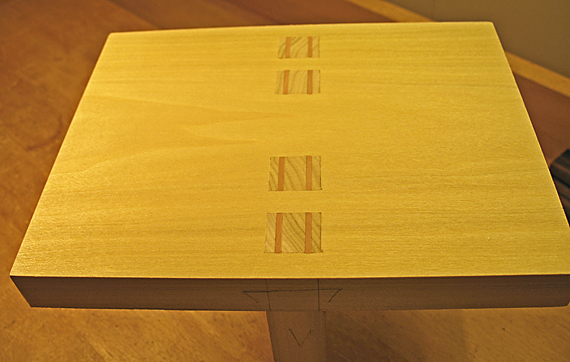 2. The tapered sliding dovetail. This provides a strong mechanical lock, and can be made efficiently with careful router setups and a bit of fine tuning by hand, though it does take some trial and practice to get it right. It can be designed to be invisible but only at one end. 
3. Nails and screws. We do not usually associate this approach with fine woodworking but not everything has to be high end. I have a 44 year-old large bookcase held together with nails and it is still rock solid. The nails are hidden (mostly) with the technique of raising an attached chip, driving the nail inside the tiny ditch, then gluing down the chip. I can do better now, but it's not bad. 
Covering the heads of screws with side-grain tapered wood plugs is a decent option in plywood and could pass in solid wood utilitarian work if done judiciously.
4. Hidden knockdown fasteners such as cam fasteners. Nah, not where I want to go in solid wood; weak. 
5. Dado joints, fully housed or shouldered. Here we have no mechanical lock and no mating of side grain glue surfaces. Biscuits or dominoes would help but I still would not bank on the strength. 
OK, with the other options noted, let's go ahead and look at the carcase dowel joint. Part 2 is coming up.