• Thursday, February 04th, 2021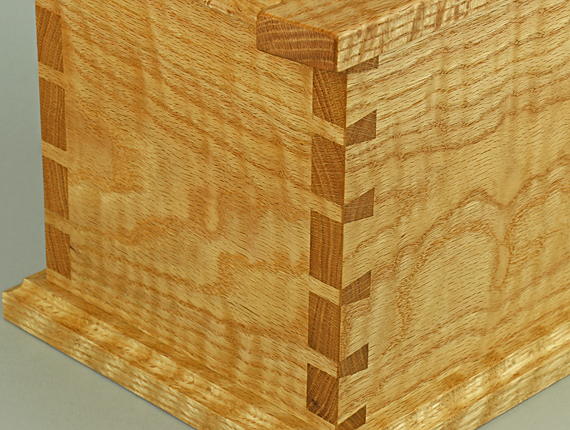 Several years ago I wrote more than 60 lengthy posts for a crafts instruction site called Craftsy. Woodworking was only a small part of their business, which dealt mostly in knitting, cake decorating, sewing, and so forth. Craftsy has since changed hands, first acquired by NBC Universal who called it Bluprint, at then by its present owner, TN Marketing, who returned it to the Craftsy name. It appears they are no longer actively involved in woodworking. 
Nine of the posts that I wrote were assembled into a 43-page "Dovetail Guide," which was available for free as a downloadable PDF. This was (if I don't say so meself) a very useful, at-the-bench instruction guide for cutting dovetails, helpful for beginners to experienced woodworkers alike. It covers the hands-on things you need to know in an intimate way that few other sources do. "From the sawdust and shavings at my bench," as I say. 
The link to the PDF disappeared in the corporate shuffle and has not returned as of now, despite my requests. Many readers have contacted me looking for the Guide.
Good news: the links to the original nine posts are available at this writing. So, you can get all of the information in the guide but you have to click on nine different links. If you are interested, I suggest you get a hold of this soon because it would not surprise me if it also gets lost in the corporate shuffle. 
Here are the links to the nine sections of Rob's Dovetail Guide, in order, labeled by topic. Each will open in its own tab.)
1. Essential tools for dovetail joinery
2. Stock preparation and marking out a dovetail joint
3. How to saw dovetails – accurately!
4. Chop the waste with good chisel technique
5. Marking the pins from the tails
6. How to saw and chop the pins
9. Fixing errors and finishing up (Introducing the Woodshop Spy Cam)
The guide covers through dovetails but the skills are directly applicable to all variants of dovetail joinery.
My goal is simple: to help you experience the joy of our craft and the fulfillment of creativity. If you do use the Dovetail Guide, drop a comment or email me and let me know how it has worked for you or if you have questions.