• Saturday, May 30th, 2020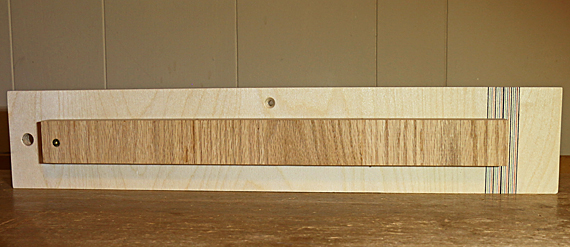 Wood moves. We all know that. This simple gadget makes the hygroscopic movement of wood readily apparent. It reminds me of what is going on with the wood in my shop, and it's fun to observe.
The device is simply an offcut from a glued-up flatsawn red oak panel. The strip is mounted on a piece of plywood, which, of course, will not undergo hygroscopic change in its length. The oak is secured with a screw near one end, while a scale on the plywood with 1/16″ gradations straddles the free end. The strip is freely supported by a tiny brad about two-thirds the length from the fixed end in case the unit is hung horizontally, but I usually hang it vertically on a nail. 
At 8.6% movement across the grain (green to oven dry), tangential to the annual rings, red oak is in the midrange among wood species. The 15″ length of the strip plus the abundance of end grain exposure produce substantial and relatively rapid dimensional change.
A change in relative humidity (RH) from 35% to 85% (at 70°) is calculated to produce about a 1/2″ change in the length of this strip. I try to keep my shop between 40% – 60% RH year round but even this range will produce about 5/32″ of movement. It is interesting to see what happens when I place the device in another room in the house for a day or two, especially during seasonal extremes.
This type of device can be upgraded by attaching an indicator needle to the end of the strip via pivots that convert its linear movement to an arc movement of the tip of the needle. That's more bother than I want, and the movement of the strip itself is enough to be easily observed directly without conversion.
I consider the regular humidity meter on the wall to be essential shop equipment but this gadget is a nifty way to stay directly aware of wood movement.