• Friday, March 31st, 2017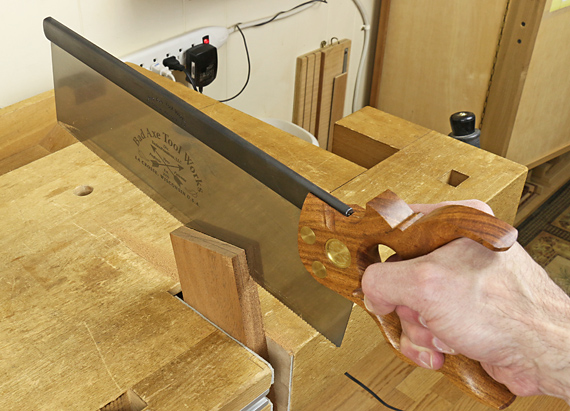 Years ago, Japanese saws were the staples of my saw armamentarium. They offered very good quality and value.
However, another big reason for using them was to save myself the trouble of maintenance. The replaceable blades, especially those by Gyokucho and Z brand are of remarkably consistent and high quality, especially for their prices. Back then, alternatives were to rehabilitate vintage saws, or try to soup up a new, but low quality, Western saw.
Times have changed.
The renaissance of saw making that started in the US in the 1990s with Pete Taran and Patrick Leach's Independence Tool Company (since folded) was followed by several fine saw makers producing at artisan volumes. Equally important, more sources of excellent information became available to help us with understanding, using, and maintaining Western handsaws.
At the head of the class, in my opinion, is Bad Axe Tool Works. Their combination of quality, performance, and range of options exceed any maker in the world today. If you read this blog much, you know that I am not given to overstatement. I also have had the opportunity to try out saws from a substantial majority of the artisan makers around today. I use Bad Axe saws.
I have seen Mark Harrell and his crew work their apparent magic in his Wisconsin shop, making, sharpening, and fixing saws, and I can tell you that it is no magic at all. They simply work with incredible care from an awesome base of knowledge and skill.
Now, back to the saw maintenance issue. Mark has made that a much more accessible job by producing solid, clearly written information on saw sharpening, repair, and restoration. Short of visiting his shop, please see the trove of instructional information available on the BATW site. It will elevate your skills and understanding tremendously.
First-rate tools, knowledge, and skills – that's what we want. Times have indeed changed in woodworking.