• Saturday, September 03rd, 2016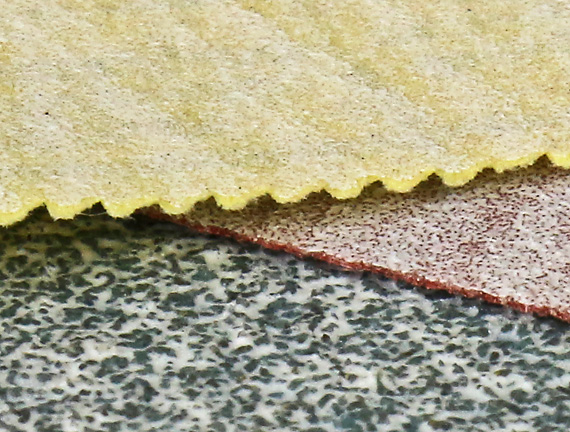 Sanding does not get much respect among woodworkers. Hand planing uses more gratifying tools in a more pleasing process, and when suitably employed, leaves lively surfaces and is more efficient. This series of posts will attempt to put sanding in perspective in the world of fine woodworking and present practical information on tools and techniques.
James Krenov wrote in The Fine Art of Cabinetmaking, "To me, sanding is not a way to express sensitivity with wood, even less a sign of true skill," yet he recognized a legitimate role for sanding, recommending, for example, scraping and sanding as the best way to finish rowed woods like padauk.
The first thing to clear up is whether you are sanding to shape wood or to produce a nice surface on wood. Are you forming a curve or smoothing the surface of an existing curve? Are you flattening a surface or just smoothing an already flat surface? Sanding is hardly ever the best way to shape or dimension wood unless you are using jigged machines such as a spindle sander or thicknessing sander.
True, sometimes you are both shaping and smoothing, such as when forming a light chamfer with a hand sanding block or running a figured panel through a drum sander. But generally speaking, it is important first to be clear about just what you are doing when sanding. In fact, most problems with sanding come from inadvertently mixing shaping and finishing.
For example, you have a fantastically figured board in the rough, or perhaps is flat from the planer but full of tearout. You are afraid to touch it with a handplane so you take out the random orbit sander, start with a 60-grit disc and work through to 320. Unfortunately, despite all efforts to evenly distribute the sanding, the final smooth surface is wavy, the outer edges are dipped, and there is no hope of using this as a reference surface for further work, such as for a drawer front.
There were lots of better options that would have produced and/or retained a true surface that would then require only fine sanding, which would not squander the flatness. Among them, for various stages, are: a spiral cutterhead on the planer, a thicknessing sander, a jack plane worked across the board, a toothed blade in the jack plane, a Veritas scraper plane, a micro-toothed blade in the scraper plane, and a hand scraper.
An equally unpromising plan is to take a curved table leg rough sawn off the bandsaw and hope to use a curved sanding block with coarse paper as the primary final shaping tool. You will not get the proper feedback to produce a true curve that comes instead from high quality rasps, spokeshaves, and curved planes. When the curves have been trued with some of those tools, then you can use the curved sanding block to just finish smooth.
The point is that sanding – by hand and with small and large machines – has its place but it pays to be mentally clear about exactly what you are trying to accomplish with it, and restrict it to that task.
In the next installment, let's consider the finished surface qualities produced by sanding versus handplaning. Be prepared for some surprises.