• Wednesday, June 25th, 2014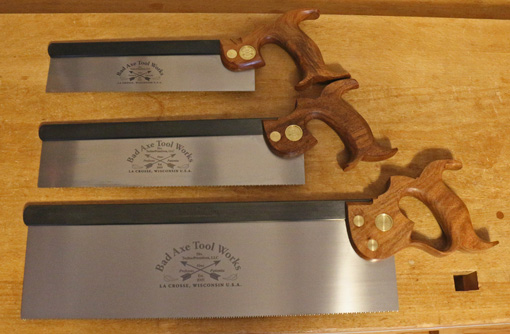 Here is an excellent resource for every woodworker by the maker of Bad Axe saws. It will, of course, be extremely valuable if you have plans to restore a backsaw, but just as much if you want to improve the performance of any backsaw, or if you simply want to expand your understanding of hand saws.
With photos and text, in six detailed posts, Mark walks you through the processes of cleaning up a saw plate, restoring a handle, and, what I found most interesting, how to adjust the interaction of the saw back and plate to produce a dead straight tooth line. He also explains his straightforward approach to sharpening and how he uses a nineteenth century device to hammer set the teeth.
Heck, the colonel even advises you on how to smooth your horns and free up your frozen nuts – in a family-friendly context, of course. And by the way, I like that he calls the wooden part of a saw a "handle" instead of a "tote," which seems more like something you'd get for free at a shopping mall.
Mark has more DIY articles on his Bad Axe Toolworks site, along with articles on how to evaluate a vintage saw, tooth geometry, and saw filing.
Great stuff, even if you don't (yet) have a set of Bad Axes like I do. (See unabashed display of show-off photo, above.)