• Monday, July 22nd, 2013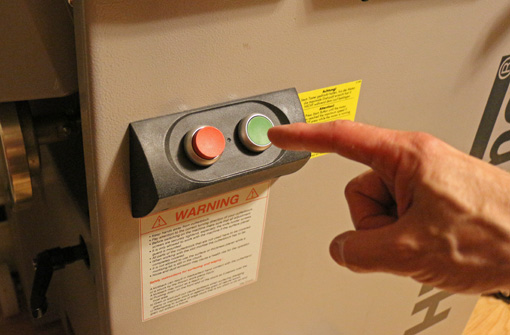 Surgeons employ a technique which woodworkers would do well do borrow.
Immediately prior to starting an operation, all action stops and the entire surgical team participates in a "time out." Everyone takes a fresh look  – a figurative step back – and makes sure all details have been attended to. This includes technical matters such as physiologic indices and medications, but also seemingly obvious things such as patient identity, the procedure to be performed, consent, laterality, and operation site.
In other words, there is a deliberate break in the workflow to ground the situation – to stop and create clarity. No removing the wrong kidney from the wrong person.
A woodworker with a stack of boards ready to mill, or a set of mortises or dovetails to cut, is in a similar situation, ready to move into the next phase of a project. At the outset of the procedure, you must make plainly clear to yourself:
What you are trying to accomplish relative to the requirements of the project.
The critical steps that will determine success, and the critical things to avoid.
Are the basics all set?
If all of this seems just too obvious, let each of us recall his last forehead slap after a costly mistake performing a no-brainer procedure . . . let's see . . .oh yea, that one . . . I'm done. OK, now we can talk.
Here's an example. Imagine you are at the jointer and planer with a stack of boards. Stop. Time out. Name the task. Be more precise than just intending to dress the boards to 3/4″. Think, for example, that it is OK to be 1/64+" fat, but not OK to go under 3/4″, and minimizing tearout would save a lot of hand planing later. Since this is curly maple, the passes need to be thinner than usual. And oh yea, one piece needs to stop at 7/8″, so that one is marked and separated.
Is the machinery ready: jointer depth, guard in place, outfeed plan, and dust collection hooked up? Are all the boards oriented and properly marked as to face and end? Is this safe – what is my hand and pushing device procedure all the way through?
The point is that the while the content of the time-out thoughts or verbalizations are very simple, it is highly valuable to take a minute to do the time out. Most woodworking mistakes, and usually the biggest ones, happen because of a failure to heed what should have been apparent.
It takes just a quick time out to recognize that.
Happy woodworking.