• Tuesday, June 26th, 2012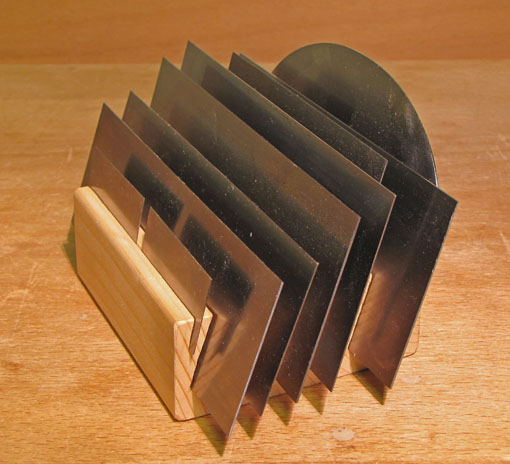 The outward simplicity of the hand scraper belies the many options available for this wonderful tool. For a card scraper, several parameters influence its utility. These are: thickness, width, steel hardness, and, to a lesser degree, height. In this post, I will discuss the card scrapers that I find useful in my shop.
The 0.032-inch thick (usually listed as 0.80mm) scraper is the one most commonly referred to in discussion, instructional materials, and in catalogs, but is the one I use least. This is a thick scraper suited, in my view, primarily for heavy use on bare wood or for removing finishes. I have Bahco and Lee Valley versions, both Rc 48-52, 6″ wide, and 2 3/8 – 2 1/2″ high. One of them is filed to a slightly concave edge along its length for use in creating subtle convexity on the surfaces of legs.
For general use, this relatively stiff scraper does not afford the sensitivity of the thinner models. For my work, hand scraping is usually done near the end of the surfacing sequence when a delicate touch is desirable.
The 0.024-inch thick (0.60mm) scrapers are the most used in my shop. They are from Lee Valley. I like the 6″ width which makes it easy to camber sensitively for long work sessions. The same thickness available from Bahco is only 5″ wide which reduces some of that sensitivity, and just seems too narrow for my hands. I wish Lee Valley would make them taller than 2″. I own two and always sharpen them at the same time, giving eight edges ready to work. They are Rc 48-52 as are all of Lee Valley's card scrapers. By the way, Lee Valley's scrapers come with the edges ready for burnishing.
For especially delicate work, including touch-ups and error correction, Lie-Nielsen's 0.020-inch thick (0.50mm), 6-inch wide, 2 1/2-inches high, Rc 49-51, is just right. It bends easily, allowing light shavings in a small area. This flexibility, however, makes it hard to avoid unevenness in larger areas of work. Lie-Nielsen also makes a 0.032″ model.
I also keep an 0.020-inch thick Bracht scraper as stock to cut and shape for special applications. Thin and soft at Rc 38-42, it is easy to cut and modify for dedicated use in a project.
In the photo below, from left to right, are 0.024″, 0.032″, and 0.020″ scrapers. The holder is a hunk of 2×4 with some slots bandsawn at an angle.
In summary, my go-to scraper is 0.024″ thick, but the other options are still very useful. Most important, I want to call attention to the available options and encourage readers to try them and find what works best for them. These are just my preferences. Scrapers are inexpensive tools so I suggest get a bunch. Having one scraper is like owning one pair of socks.
Next: more sizes and shapes.