• Saturday, January 09th, 2010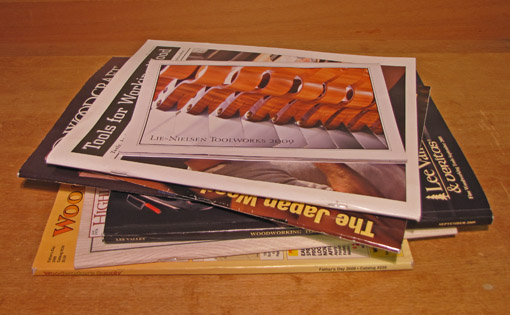 With the holidays past, maybe you've got a nice gift certificate for your favorite tool catalog, or maybe you've got a few bucks left over after gift giving and feel that the time has come to be the recipient of your own munificence. Better still, maybe you actually need some new tools to complete a compelling woodworking project. Well, you've come to the right place for a bit of unsolicited advice. Here goes.
Personnel directors of pro sports teams and kids choosing sides for playground sports both know the value of choosing the best athlete available, often despite specific positional needs. A fine athlete who is assigned a role somewhat outside of his usual position will usually perform better than a lesser athlete even if that is the latter's usual role. For example, even though a football team has enough safeties and needs a linebacker, they ought to draft the athletic safety over the mediocre linebacker and probably adjust their defensive schemes accordingly. Similarly, I would rather have a great math teacher, in preference to a mediocre history teacher, be the substitute for a history class.
You see where I'm going here: buy the best woodworking tools you can afford, choosing quality over quantity and narrow specificity. I would rather spend money on a Lie-Nielsen jack plane and sometimes use it for smoothing and jointing, rather than have dedicated but cheap smoother, jack, and jointer planes. I would prefer paring with an excellent bench chisel than a with cheap paring chisel, or ripping with an excellent bandsaw than with a cheap tablesaw. The more specialized tools can be acquired in due time, as the work demands.
More is not better, quality is. Woodworking procedures can often be adapted to suit the available tools without changing the project design. For example, one can clean up that slightly rough ripped edge from the bandsaw with the high quality jack plane.
Furthermore, avoid squandering your woodworking budget on gadgets. Instead, build a cadre of quality core tools that will prove their versatility and longevity. A woodworker will often build better shop jigs than he can buy.
There is another, less tangible benefit to surrounding yourself with high quality tools. They engender high quality workworking and a general orientation toward excellence. Indeed, I believe they will foster what we seek: happy woodworking.