• Monday, June 27th, 2011
If your shop is large enough to set up a tennis court after clearing out all the equipment, you may stop reading here. On the other hand, if you're like most of us and could use more shop space but are limited by the building, such as your home, where your shop is located, here is an approach that may help: overlapping space.
The volume of a major machine itself is much less than the space required to use it, which includes the infeed and outfeed pathways. Thus, the functional depth of a portable planer is not just the two feet of the machine, but is about 12 feet to plane a 5-foot-long board. By altering and coordinating the table heights of the machines, shop space can be surprisingly expanded by effectively overlapping the working areas of the machines.
The photos show the DW735 planer with an attached 3/4″ plywood platform sitting on a Workmate. The additional height raises the planer bed so boards will clear the table saw and the workbench, as demonstrated with a long straightedge. The second photo below similarly shows my bandsaw table is slightly higher than the table saw.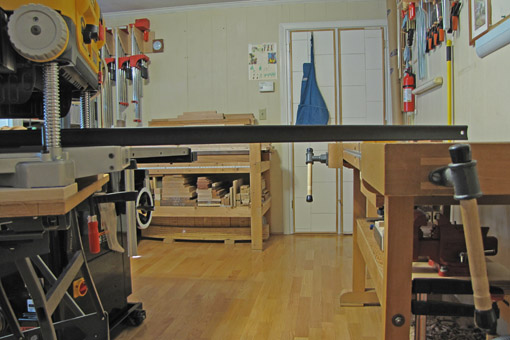 Of course, there is a limit to what can be accomplished with this – everything cannot be higher than everything else – but it pays to strategically work out shop systems with this idea in mind. Some heights cannot be easily changed, such as my bandsaw, but others are custom made, such as the router table. All of my major machines are on wheels except the DW735, but some are easier to move than others, so this also must be taken into account. The walk-around space also is a factor, such as being able to freely get around the planer from the infeed to the outfeed end.
When working this out, use a long straightedge, such as a jointed board, because the slope of the table tops can vary surprisingly, even in a shop with a level floor. Using only a tape measure to compare heights will be misleading.
Each woodworker will have to work this out for his own shop requirements, but the main idea is to think not just of the plan view of the shop layout, but also of the vertical relationships. Therein, more shop space can be found!