• Saturday, October 17th, 2009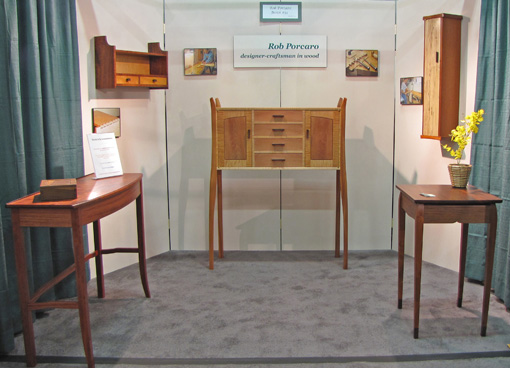 You know how it is. You are committed to a project, sweating the details, maybe doubting some design features, maybe doubting the entire aesthetic or structural concept of the project, and wondering whether anyone will ever care about the joint you are fitting or the curve you are shaping. You may wonder if you will later care, or even remember, about a design decision or construction detail that now seems so vexing.
Don't worry, you care and so do many others who will appreciate your work. This is an important part of Krenov's message, that your work matters, that it matters to do it well, and that it will be appreciated by not everyone, but enough people to make the effort worthwhile. People can and will discover that "quiet joy."
Last week I had the privilege and pleasure to display my work at the Paradise City Arts Festival in Northampton, Massachusetts, a high quality juried show with 260 booths in a variety of craft media including glass, ceramics, jewelry, painting, fiber, wood, and furniture. The three-day show was very well attended, attracting lots of folks with a well-nurtured appreciation of fine craft.
Yes, people notice; they get it. It was exciting to see people running their hands along a curved table leg, inspecting exposed joinery, asking about matching figures in the wood, feeling the gentle action of drawers and door catches, taking in subtle design elements, and so forth. The pieces on which I had lavished mental and physical efforts were now able to stand on their own, to just be what they are with no required annotation or message while people discovered them. In this way, these objects support a meeting of aesthetic minds between maker and appreciator which is gratifying for both.
It is worth staying with it on that project because you and others will share that quiet joy. That is a path to happy woodworking.