• Saturday, December 07th, 2019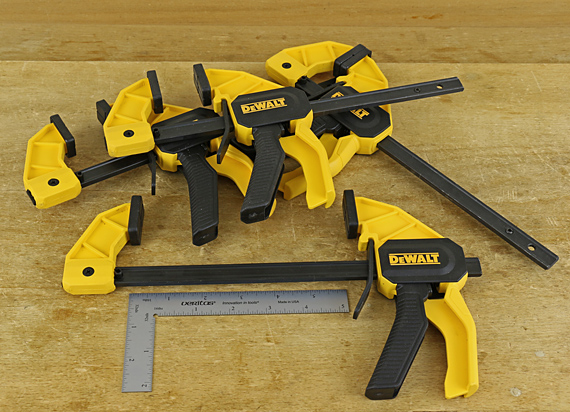 No respectable woodworker can venture to the local Home Depot for that next-on-the-list home fixit thingy and resist a stroll through the tool corral because, you know, there might be something there that you absolutely need without having realized it. So, in this lucid state, I acquired a few of these little DeWalt trigger clamps. 
DeWalt calls them "medium" but I rate them: small enough but strong enough. They are an excellent alternative to spring clamps, which I have never really liked.
The 2 5/16″ (actual) throat depth is at least that of most spring clamps except for some awkwardly large steel and ratcheting models. The 6″ clamping length of the model I use is longer than nearly all spring clamps. There is remarkably little bowing of the I-beam bar even with the maximum force applied, which is nominally 100 pounds.
The fixed jaw can be reversed for spreading. The jaw pads have horizontal and vertical V-grooves for use on corners and small round pieces.
A trigger clamp is not quite as easy to use one-handed as a spring clamp. However, they are still convenient to apply with one hand if you preset the jaw opening, then carefully set the first jaw flat on the workpiece, and finally squeeze the handle to plant and tighten the second jaw.
DeWalt's trigger clamp series also includes "small," which is too tiny for much use in my shop, and "large," which I skip in favor of the "extra large," which generates 600 pounds of force. I wrote about those in another post.