• Saturday, June 24th, 2017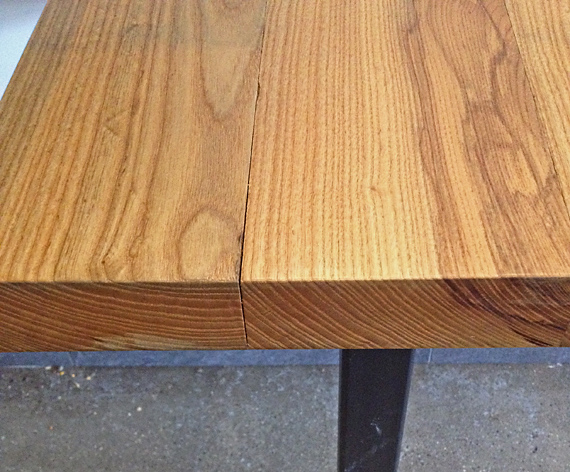 Many of us woodworkers have a habit of casting our judgmental eyes on woodwork we encounter anywhere, at anytime. Imagine if we were hair stylists. Recently, I noticed the condition of the tables in a certain non-chain pizza shop, which happens to serve the best pizza I have ever tasted. Great pizza joint, bad edge joints.
Only a year old, the joint in the tables are failing. Because we do not want this to happen in our work, we ought to ask why. It is not enough to point out that the exposed end grain produces more and faster moisture content cycling at the ends of the tabletop than toward the middle, which produces greater stress at the ends during the dry months.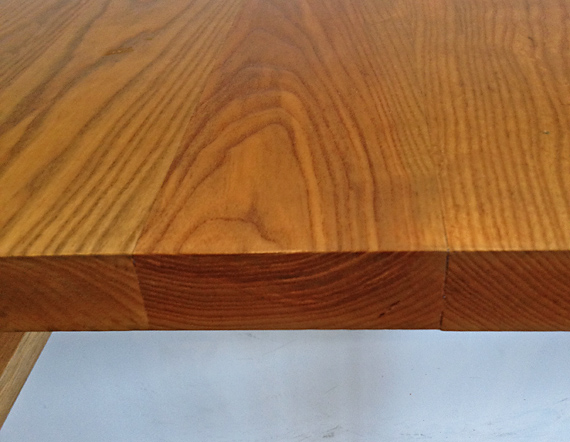 The situation requires more explanation. If the joint lines were truly as strong as the wood itself, the failures would not occur almost exclusively at the joint lines. Those joints are, in fact, weak spots – they were not made well. Furthermore, even if they were intact, they do not look good.
There are many reasons to consider. Because I do not want this to happen to your work, or mine, I direct your attention to a series of three full-length articles I have written for Furniture and Cabinetmaking magazine. They really constitute a book chapter on the subject, and I think you will find they cover the topic thoroughly. The first is in the current issue, July 2017 (issue #259). The second and third will be in F&C August (#260), available any day now, and October (#262).
Much of it is from the series on this blog but I have refined everything and added more useful material, along with all new photos. I think you will find the photos supporting the explanation of the all-important matter of wood selection to be particularly useful.
If you are not familiar with Furniture and Cabinetmaking magazine, I suggest give it a look. Produced in the UK, it is full of high quality content, beautifully presented. A single copy off the newsstand here in the US is pricey but the digital version is a good value at $36.99 for one year of 13 issues from PocketMags. You can also get small bundles of any selection of back issues.
And then put aside any fear that anything you make will end up like those tables in the pizza joint.