• Sunday, December 18th, 2016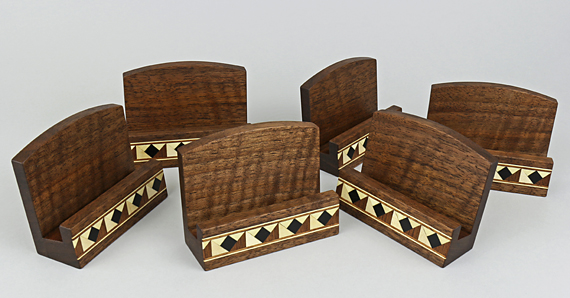 You're a woodworker. Alas, you have less money than you would if you were not a woodworker and thus expended your effort on more remunerative activity. And Christmas is around the corner.
The dilemma is apparent. The solution, of course, is the woodworker's solution to everything: you can make things, so make something.
To happily fit the bill, I designed and made these business card holders. The rabbeted front section is edge joined to the back plate, 4 1/8″ wide. The angle of the base is 8°, which is also reflected in the top edges. The primary wood is curly Claro walnut, finished with an oil-varnish mix. The mountainous inlay banding (maple, ebony and sapele) is all face grain, available from Inlay Banding.
Merry Christmas, dear readers.