• Saturday, February 21st, 2015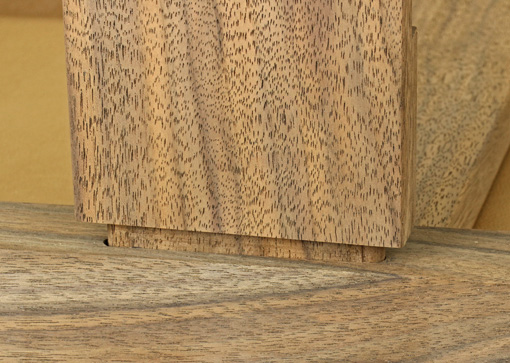 The glue line of a properly constructed mortise and tenon joint will almost never break from external load. Other things might break but not that.
To get a good sense of this, let's think about what's going on in just a small joint with a tenon 3″ wide by 1″ long. There are 6 square inches of glue surface, which is equal to that in an 8″-long edge joint between ¾"-thick boards. Now imagine trying to break that edge joint, not in tension as in hammering down on the unsupported joint line, but in shear! The wood will break, the glue line will not.
The mortise and tenon joint is strong because even in a fairly small joint there is plenty of glue line and it is stressed in shear. So if you've fit that decently, don't worry; it is very unlikely to break. The tenon shoulders transfer much of the stress to that glue line. (By the way, the glue line of a half-lap joint can be stressed in tension if, for example, a frame undergoes severe twisting forces.)
The tenon itself is stressed mostly in tension and compression along the grain, which are also quite strong. So don't worry there either, because a reasonably sized tenon is also very unlikely to break.
Furthermore, for the purpose of strength, there is no point in fitting the tenon tight to both ends of the mortise. That does not make the joint strong.
If something is going to break, it is most likely to be the wood of the stile or leg, which can succumb to stress in tension across the grain. This is especially so if the joint is designed with injudicious distribution of wood among the components.
Thus, make sure the stile or leg will be strong around the joint. In general, the walls of the mortise ought to be at least as strong as the tenon. And though it seems less popular lately, a haunch is a good idea when joining an apron at the top of a leg.
Also, hygroscopic cycle changes in the wood will stress every mortise and tenon but don't let this be any more than it must. Don't let a tenon and excess glue bottom out in the mortise and don't jam a tenon to each end of the mortise (see above). Placing a peg too far from the shoulder will tend to make hygroscopic movement eventually produce a gap at the shoulder, though placing it too close to the shoulder will make the mortise wall more liable to break.
Inspecting old broken or cracked furniture and other wood structures, wherever you can find them, and thinking about why the failures occurred, is one of the most useful habits a woodworker can have. I've been doing this for several decades – I suppose because I would rather not have the same things happen to anything I make.