• Wednesday, May 13th, 2009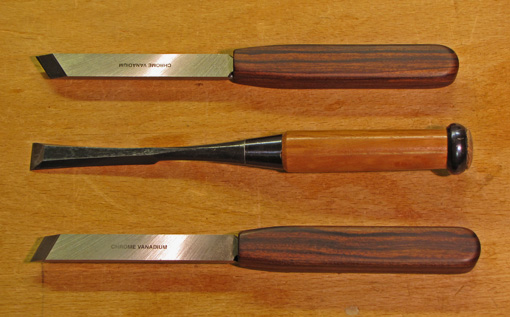 Here are some brief thoughts on these tools and a good excuse to own both.
Skew chisels are handy for getting into acute angles, such as the sockets of half-blind dovetails, as well as for easy access to square corners, such as cleaning out a hardware mortise. The skew chisels pictured above are available from Lee Valley, $27.50 for the pair, nothing fancy. They are about ½" wide and come with sturdy, though unattractive, hooped handles. For fun and aesthetics, I made Hondouras rosewood replacement handles intended for pushing, not striking. The edge forms a 65 degree angle with the length of the chisel on the acute side.
An interesting tool sits between them, a Matsumura "bachi nomi" or fishtail chisel, available from The Japan Woodworker in various sizes, $39-$53. The 5/8″ edge forms an 86 degree angle with each side. This allows use in many tight spots but is not sufficiently acute to easily clean out lap dovetail sockets. The geometry of the bach nomi makes it more amenable to striking than that of the skew chisel.
These two types of tool, one common, the other unusual, have some overlap in their function but I feel both are worth owning, especially since I am a big fan of Japanese chisels in general.