• Friday, January 18th, 2019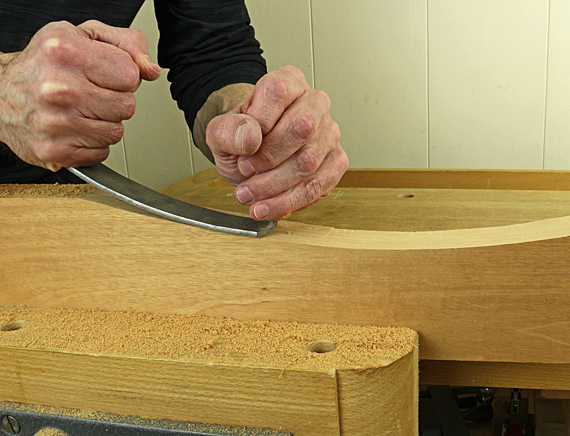 This rasp is unique: the toothed surface is flat across its width with a convex curve along its length, and handled at both ends.
Grasp the handles intuitively – from the sides or over the top – and bring teeth near the leading end into contact with the wood (top photo), then ease the trailing part of the rasp onto the wood (photos below), using a pull or push stroke. Let the sharp teeth do the work; don't force them into the wood. As you move along the desired curve, you'll subtly feel more resistance over bumps, less over hollows.
This does not work like a compass plane or spokeshave because they have only one contact point that cuts. The rasp cuts all along its length, encouraging a sweeping motion.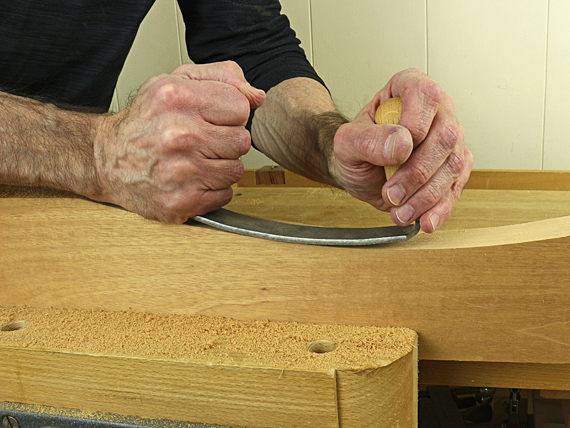 Curves are generally best worked in the downhill direction so as to work with the grain, but this can vary. I readily switch from a pull stroke to a push stroke as I work, gently tipping the rasp toward or away from me as needed. This tool encourages working instinctively.
The constant radius of curvature of the rasp makes all of this easy and intuitive. You can use any part of the rasp, changing from push to pull, and always know the curve you are presenting to the wood is constant. (Of course, this does not mean the rasp is restricted to working on curves of constant radius.) In my early designs for this tool, I found I could not work as fluidly with a variable radius.
The stiffness of the rasp, the tang fit of the handles, and the smooth-cutting sharp teeth, magnificently crafted by Noël Liogier and his team, work together to provide excellent feedback to your hands as the curve takes shape under the tool. You can feel the curve becoming true even before you stop to look at it.

I think you will be delighted with the performance of this rasp. Liogier sells it for €58, about $66, which is a bargain considering its durability, utility, and the incredible workmanship they put into it.