• Monday, June 13th, 2016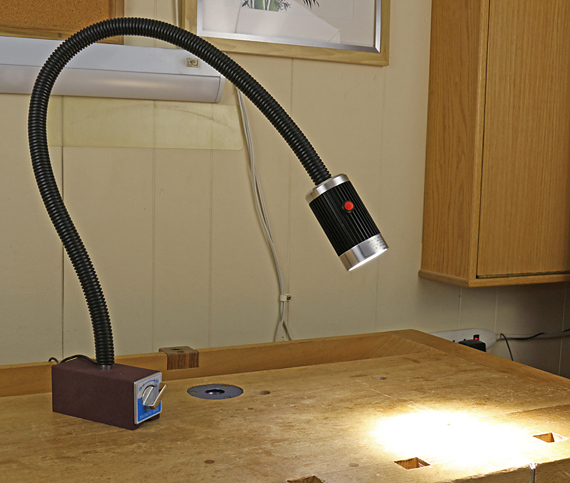 Good lighting is one of the most under-appreciated assets for fine woodworking, especially handwork at the bench. It is a shame to see an elaborately equipped shop with nothing more than fluorescent ceiling lights illuminating the workbench.
Basically, the properties of lighting are intensity, distance from source to the object, angle of incidence, and quality, which includes the color cast (color temperature). Without delving into technical detail, for detailed tasks such as hand cutting joinery, you want a strong light that is adjustable for distance and angle, and has a pleasing whiteness.
The Super Nova lamp from Woodturners Wonders delivers big time on all counts. It was developed by woodturner and inventive guy Ken Rizza for use with a lathe but is just as useful for general woodworking. The three LEDs in the lamp head together use 9 watts of power to generate 870 lumens.
This is a heavy-duty lamp. The 30″ flexible stainless steel neck, covered with a black flexible, non-reflective shroud, holds its adjustment in any position. This is the key to the effectiveness of a lamp like this – the light can be adjusted to the exact location and direction desired and it stays put. The heavy rectangular base houses a switchable magnet that holds with 286 pounds of force! The base is large enough to easily accommodate a clamp to secure it to a wooden surface.
Below is not trick photography. The base is holding unyieldingly to the even the 2mm sheet steel of the bandsaw cover, while the neck does not sag a bit when fully extended. Wow!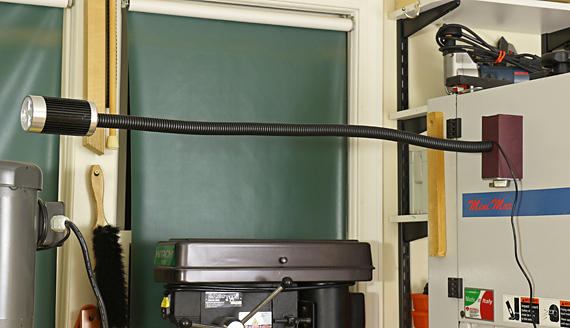 The LEDs are rated for 50,000 hours life (8 hours/day every day for more than 17 years). The lamp is equipped with a generous 9-foot cord. Unfortunately it ends with the obligatory transformer but at least this one is small and light. A minor complaint is that I wish the switch button was placed on the back of the lamp head instead of on the side of it because I tend to switch the lamp off when grabbing the head to adjust it.
This bad boy lamp is not cheap at a regular price of $159 (look for sales) but a good light is one of the most important tools in the shop. It is by far the best lamp for detailed bench work that I have ever used or seen. Several cheaper "good" task lamps have frustrated me over the years. I cannot at this time attest to its durability but it certainly seems sturdy and does carry a two-year warranty. Smaller models are available.
I suggest trying a top quality task light in your shop. You may be surprised what you have been missing as you experience the improved visual feedback for detailed handwork, and using a raking light for surfacing and finishing.
This review is unsolicited and uncompensated. I have no affiliation with Woodturners Wonders.