• Tuesday, August 17th, 2010

For breaking down rough stock into the approximately dimensioned components of a project, I usually go to the bandsaw. Big boards usually need to be first crosscut into manageable pieces. For that job, I use the Pony crosscut saw that I praised in an earlier post and is pictured below. It's not pretty but it sure gets the work done. Specs: 22″ 0.040″blade, 8 tpi Japanese-style hardened crosscut teeth that cut primarily on the push stroke, set 0.004″ each side. Best of all: $15.99, from Woodcraft, item #149039.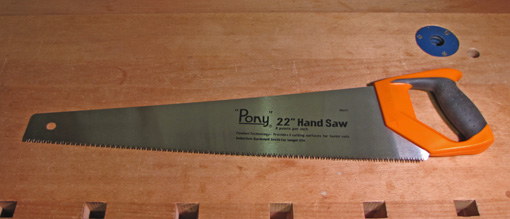 Despite my affection for the bandsaw, sometimes I prefer to rip with a handsaw. Maybe I don't feel like setting up the bandsaw for a few short cuts, just prefer the relative quiet, or even prefer the relatively slower cutting to give me a chance to think.
I had been using my Japanese rip saw (top photo) for this but was never really happy with its performance in this job. The main drawback was that I could not put my weight into the cutting stroke. This saw does, however, shine for certain other cuts, especially small resawing and, as I mentioned in an earlier post, for cutting some large tenons. It can produce surprisingly clean surfaces for these type of cuts. It is also a handy saw for shorter ripping at the workbench. For these reasons, it certainly earns its place in the shop. Specs: Z brand 300 mm (11 3/4″), 0.027″ saw plate, 0.036″ kerf, rip teeth grading from 8 tpi at the handle end to 4 tpi at the far end. It is available from Hida Tool. Their item #D-ZS-#300 is the crosscut version for $38.90 but the rip replacement blade is item #D-ZS-S300R ($21.30) which perhaps you can ask them to install instead of the crosscut blade.
Now for big ripping, I wanted a full 26″ Western handsaw which I could put my weight into with the classic position of my left knee on the board. After some hunting around I bought a Disston D-7 (top photo) in great functional condition from Jim Bode. This is a straight back workhorse saw marked 5 ½ ppi (it measures more like 4 ½ ppi), vintage 1940-47. The saw plate is about 0.037″ near the slightly breasted tooth line and is, of course, taper ground as you go away from the teeth and toward the toe.
And it rips big time – just what I was looking for.
Next: the final installment in the series – reflections on a long saw journey