• Sunday, September 11th, 2016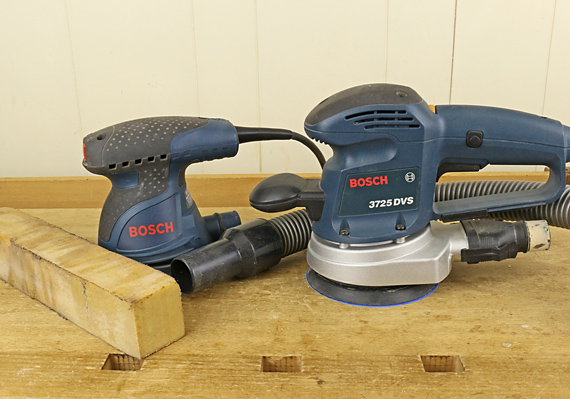 Here is most of the power sanding gear in my shop. Once again, I hope you will find a useful tip or two in here.
The gentler Bosch ROS20VS (5″ disc, 2.2 amps, 3/32″ diameter orbit) random orbit sander gets much more use than the larger Bosch 3725DVS (5″ disc, 3.3 amps, 3/16″ diameter orbit) because I am mostly using these tools to smooth surfaces, not to form them. As mentioned in the first post of this series, there are much better options, with and without sanding, for the later task.
In any case, these Bosch sanders perform very well at reasonable cost. The 6″ size has 44% more area, helpful for bigger jobs, but the 5″ is handier and suits the scale of most of my work. I always use these sanders hooked up to my Fein shop vac with the auto-start feature.
A crepe rubber stick (above, left) is a must for cleaning power sanding discs but also works well on hand sandpaper. Get a big one.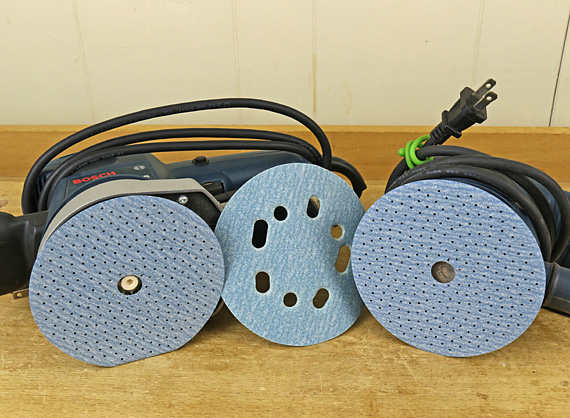 Norton's new ProSand Multi-Air Cyclonic hook-and-loop discs (above, left and right) have superseded their 3X discs (center). Amazingly, the 246 laser-cut holes (I read that; I didn't count them) give better dust extraction than the big holes in 3X and other brand discs. The ProSand discs also have more sanding area, an efficient ceramic abrasive, and are easier to apply because you do not have to align holes – just put the big one in the center.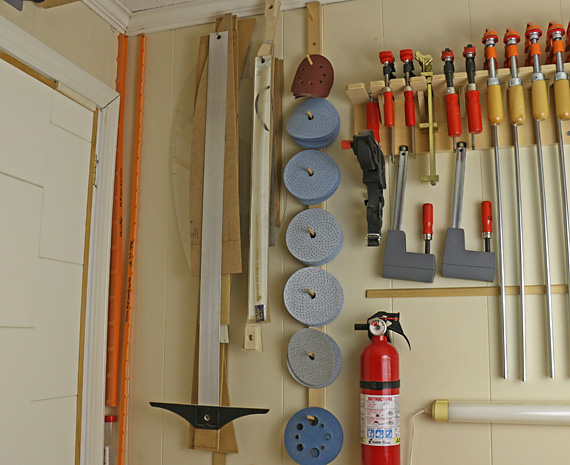 This storage tree keeps the discs organized. It is nothing more than dowels set at a slight angle into a wood strip.
The Ridgid EB4424 combination oscillating spindle-belt sander, shown above in belt mode and below in spindle mode, may be the best thing Home Depot sells in their "tool corrals." The designers thought of just about everything. This certainly is a sanding tool for shaping wood.
The oscillating action, which runs true, makes shaping smoother and more controlled, as grabbing is minimized, and leaves a smoother surface on the wood. Changeover between modes is fast and convenient. Belt tracking is easy to adjust and the setting is retained very well.
The most significant downside of this machine is the cheap table but it is not a deal breaker. Though it adjusts from 0° (shown) to 45° and has a serviceable miter slot (3/4″? Yea, sure.), it should be flatter and firmer. Dust collection with the Fein vac is surprisingly good for this type of sander.
I highly recommend this machine.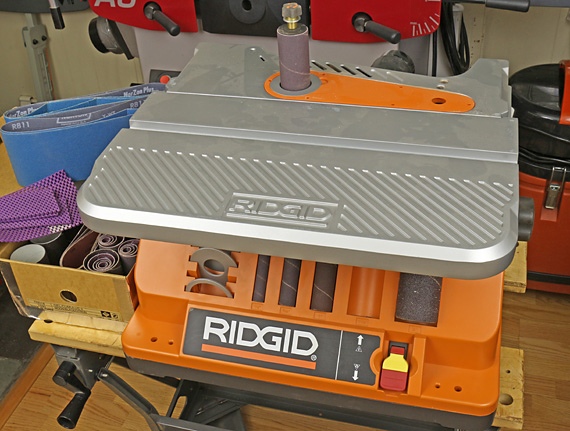 By the way, those purple 3M flexible mesh sanding sheets found their way into the two photos above, at the left edges. I forgot I had them since 3M's much better Ultra Flexible Sanding Sheets became available. (See the previous post.)
Norton's blue Norzon belts are incredible wood eaters. Most of the extra sleeves and belts get stored in this boot box.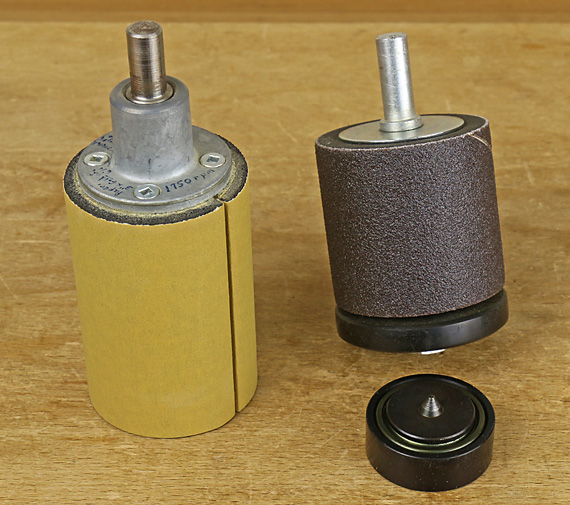 The Singley drum (above, left) uses ordinary sandpaper, cut to size and easily wrapped around and tucked into the drum. With this tool, drum sanding can be done economically in a wide range of grits. Many sizes are available.
The Robo sander, chucked in the drill press, works like a flush trim/end-bearing router bit but more gently and without the risk of tearout.
Shown beneath the Robo is the Veritas Drum-Sander Support System bearing. It is essentially a live center that sits on the drill press table, and whose point engages a dimple in a retrofit modified drum shaft. This trues and stabilizes the rotation of the drum.
This concludes the four-part series on sanding. As always, there is more than one good way to do just about everything in woodworking, but I hope this material has been helpful to you.